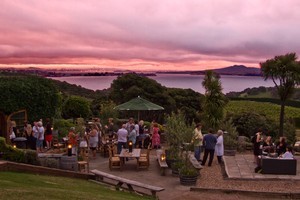 With just over a month to go before the end of daylight savings, Danielle Wright gives us a round-up of how best to spend those precious hours between daylight and darkness
Even on rainy days the sun has poked its head out about twilight, offering us some hope for good weather the next day, whether it has been delivered or not. Before summer is over, make the most of the twilight sunshine and see Auckland at its best.
Twilight sailing
Twilight sailing was a big part of my childhood memories - just as much for all the kids getting together for the buffet and dancing at the end as for the sailing itself. I remember the mums sipping wine while the men did all the hard work, but no doubt it has changed a bit since then.
If you head down to the Ponsonby Cruising Club on a Thursday from around 3pm, you may be invited on a yacht for a free twilight sail. It's a social race and starts at 6.30pm, with the sailing route dependent on wind direction.
"We want to introduce people to sailing in a relaxed way and there's no better way to see Auckland than on the water - it's a pretty place," says Robert Vallom, commodore of the Ponsonby Cruising Club.
Afterwards enjoy dinner and a drink at the club. Every other week on a Tuesday is the ladies' race, which starts at 6pm. Friday twilight sails are also available, with live music once a month. 141-151 Westhaven Drive, Westhaven Marina, Auckland. Ph (09) 376 0245 or visit pcc.org.nz
Royal NZ Yacht Squadron at Westhaven also offers Friday night social twilight sailing starting at 4.30pm. If you turn up around 3pm, they can usually place you on a boat and if you're a natural, the skipper might ask you back for their more competitive Wednesday night Twilight Club Marine series from 6pm, with a buffet afterwards. For the ladies, a Tuesday summer series is running from 6pm. Non-members pay $30 for a single race. 101 Curran St, Westhaven Extension, Herne Bay. Ph (09) 360 6800 or visit rnzys.org.nz
Twilight golf
The Waitakere Golf Course is beautiful any time of the day, but head there for tee-off between 3.30pm-6pm and you can compete in a 9-hole competition while watching the sun sink beneath the ranges for just $10 (non-members).
Prizes for "holes in two" and "the longest drive" are up for grabs, as well as a prize-giving around 8pm offering golf balls, hats, gloves, wine and chocolates. The cafe is open until 8.30pm, so stay for dinner and a drink afterwards. It's a relaxed evening for all levels of golfers in the majestic Cascade Kauri Regional Park.
35 Falls Rd, Bethells Beach. Ph (09) 810 9399 or visit waitakeregolf.co.nz
At "the hidden jewel of Auckland", Pukekohe Golf Club, there is twilight 9-hole golf running for tee-off between 3-6pm on Thursdays. Everyone gets a prize if you're in the clubhouse at presentation time such as meat packs, wine or golf balls. Burgers, chips and pub-fare is on offer afterwards at the restaurant and bar. Members $12, visitors from other clubs $15, non-affiliated golfers $20. 654 Karaka Rd, Drury. Ph (09) 294 8822 or visit pukekohegolf.co.nz
Twilight culture
Take an hour's drive north of Auckland to Te Hana To Ao Marama cultural village on a Friday night at 7.30pm and you can be treated to a powhiri, a twilight village tour through a beautifully lit 17th century replica Maori village and model pa site, a cultural performance and a three-course banquet sourced from local farms. Prices are $100 adults, $50 children (5-15 years), $60 senior citizens and students or $250 for a family package. Bus transport from Auckland city can be arranged. Ph (09) 423 8701 or visit tehana.co.nz.
Watch the sun go down at the Auckland Botanic Gardens in Manurewa this Sunday and you'll be entertained by the music of Elvis, as well spotting him in all stages of his life by impersonators performing tributes to the king of rock 'n' roll. There will be classic cars, competitions, bubbles, face painting and refreshments. Free entry 1pm-7pm, Sunday 26 February. Ph (09) 267 1457 (ext 3) or visit aucklandbotanicgardens.co.nz.
Shakespeare Under The Stars begins on 3 March at the University of Auckland's Clocktower Lawn, starting at 7.30pm. This year, Much Ado About Nothing provides a light-hearted take on Shakespearean love. Bookings are $18-$25 and available through Maidment Theatre on (09) 308 2383 or visit maidment.auckland.ac.nz.
Twilight adrenalin
Watch eight of New Zealand's best waterski jumpers hit the ramps at high speed tonight from 7pm-10pm at Orakei Basin for the Demon Energy Night Jump.
"I've been jumping for nearly 20 years but have never hit the ramp in the dark under floodlights," says one of the waterski jumpers, Lance Green, who thinks it's going to feel much faster at night.
There's free entry and also food, drink and off-water entertainment on offer at the Auckland Water Ski Club, 120a Lucerne Rd, Auckland.
For more information visit demonenergy.co.nz/events. Limited parking is available along Lucerne Rd, though more parking available on Upland Rd (access to the event is down the footpath and along the walking track). Otherwise it's a 5-10min walk from the Meadowbank train station.
Twilight dining
Watch the sun set over the Hauraki Gulf and Auckland City from Waiheke's Mudbrick Vineyard and Restaurant's outdoor Potager Bistro, which, on a clear night, can be set up with outdoor couches and a fireplace for a more relaxed drink and small tasting plate. The outdoor area is not open every night, so check first in case it's booked for a function. Ph (09) 372 9050 or visit www.mudbrick.co.nz. If you're feeling indulgent, take a shortcut to the island with a Helilink helicopter flight from Mechanics Bay in Central Auckland.
For something slightly less glamorous but equally rewarding, pick up a picnic basket ready-made from a delicatessen or make your own, and head to a beach or regional park after work. At Takapuna beach you'll see many twilight picnickers with a box from Sal's Authentic New York Pizza shop on the Strand.
Visit Cornwall Park and you might be served an icecream by the Cornwall Park Restaurant's golf cart stocked with the Holy Moly range of icecreams, or visit a twilight market such as those in Glenfield or Pakuranga. See aucklandnightmarket.co.nz for details.
In the central city, Silo Park has twilight markets and movie nights finishing tonight so make time around 5pm to visit the markets.
Stay for the movie or visit pavement cafes in Wynyard Quarter for a gelato or meal after work or Imperial Lane for tapas-style dishes, oysters, cheeses and wine in a setting more usual in a cobblestone laneway in Melbourne or New York. Visit waterfront.co.nz, silopark.co.nz, or theimperiallane.co.nz