Miriam Emerson, stage manager for the Royal New Zealand Ballet's latest production NYC, tells Elisabeth Easther about the joys of growing up in Torbay.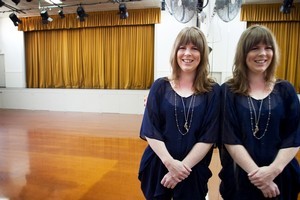 I've been visiting Torbay since I was about 11 or 12, when I went to the Marian McDermott School of Dance. I used to go to lessons with her at the Torbay Community Centre, which is tucked in behind the shops. When I was dancing, I would go there up to five times a week. Back then I mainly only went as far as the Community Centre, the bakery and the Four Square.
Because Torbay doesn't have a supermarket, the Four Square is the local place where everyone shops. The staff know everyone's names and it also has the post office, so it's a bit of hub.
We didn't live in Torbay when I was studying out there, but my mum really liked it there so when they found a house they could rent they jumped at the chance. It is the most amazing house on the cliff, with 180-degree views of the cliffs, if that's possible. And because I tour all the time, when I'm not on the road my base is with my folks in Torbay.
There are three great beaches in the area. Waiake, which is Torbay's official Maori name, has the most beautiful beach and a really cool playground.
It's really safe, and there's a little river for kids to play and swim in. There's also the yacht club there.
A bit closer to my parents' house is a semi-secret beach called Ladder Bay. It's called that because you have to walk down an almost ladder-like cliff. It's quite scary walking down but it's a lovely sheltered cove. We run the dogs along there a bit, people are allowed to take dogs there during certain hours.
The other amazing beach, the main one, is Long Bay, which is also a regional park, and it's the most popular beach. During summer, Torbay grows in population so much that there are traffic jams but the businesses do really well, so it's great for them.
When I visit my parents I love the neighbourhood. It's quiet and really safe - beyond the main road there's hardly any traffic. I have an 11-year-old brother and he can wander to the dairy and go places on his own. All the neighbours are friends, when the dogs get out somebody will return them, because they know who they belong to.
For a little village there is a lot going on too. The fish 'n' chip shop is really good, it's called the Acropolis Takeaways. Then there's the Euro Patisserie, they've won awards for their pies.
Torbay is a real old school little village. There's a bakery, a fruit and vege shop, and we had a butcher open just before Christmas. It's a little one-man shop, and he's a real community butcher. Mum bought the Christmas lamb roast from him and he offered to butterfly it and stuff it with Mum's own stuffing. And it was delicious.
As for the restaurants, there's Spice2nite, which is a great Indian restaurant, and there's also a very good Thai place, so there are really nice places to eat and heaps to do. Lots of people have lived their whole lives there, and there's a good mix of retired people and young families.
Mum calls Torbay Auckland's best-kept secret.
Miriam's picks
* Acropolis Takeaways, 1056 Beach Rd, Torbay. (09) 473 6361. Perfect for busting the hunger.
* Euro Patisserie, 1028 Beach Rd, (09) 473 7535. Famous for their award-winning pies.
* Spice 2nite Indian Restaurant, 1024 Beach Rd, (09) 473 5555.Consistently delicious food.
* Waiake Reserve, Torbay. There's a park, the sailing club and safe swimming.
* NYC: Three Short Ballets from the Big Apple is touring New Zealand from next Wednesday. See nzballet.org.nz for details.