Fashion designer Jenny Drury's business nous has seen her label, Ketz-ke, expand into the international market. Viva finds out more about her passions.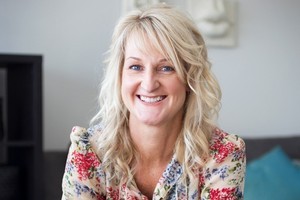 Jenny Drury is the founder of Auckland based fashion label Ketz-ke, who recently announced George FM host - and NZ Fashion Festival ambassador - Sophia Nash as a brand ambassador for winter.
Drury, who designs the collections with sister Brenda Wilkinson, has a background more diverse than most in fashion: she has owned a small community newspaper in Australia, before working in fashion sales and establishing the label Ezzue. In 2007 she launched Ketz-ke, which recently entered the US market with an impressive 150 new accounts after showing in LA last year, with plans to expand into Britain this year (there are also more than 10 Ketz-ke stores in China; reflecting the brand's global reach). Here are some of Drury's favourite things.
10 FAVOURITE THINGS
1. My son's first pair of shoes
My son, Matt, took his first steps in these little denim lace-ups. The memories of his wobbly little body in them and his transition from crawling to standing makes them so special to me.
2. French Champagne
A glass or two enjoyed with close friends is a big favourite. I absolutely adore Verve Cliquot, it is the perfect addition to a special occasion.
3. Tart
A quirky little cafe in Los Angeles that I am always eager to get to. They make the best date scones, which I can never resist when we make a trip over.
4. Clothes
As a designer I have to say clothes. My life is consumed with clothing. I fall in love with clothes both old and new and love to combine the two to create a unique outfit.
5. Singer sewing machine
It was my great-grandmother's. Just like my cowhide rug, it has moved house with me numerous times and always takes a prime position in the house. I have it displayed in the hall at the moment, as it is built in to a beautiful wooden table with a cast iron pedal.
6. My great-grandmother's polka dot china tea set
It is a very chic little china set and adds the perfect touch of vintage to my kitchen and as it is far too cool to be used, makes the cutest ornament.
7. Cowhide rug
I bought this while in Melbourne years ago. It has moved houses with me so many times and, despite being 25 years old, it still looks awesome wherever I put it.
8. Paisley dinner plate
More than 80 years old, the plate has been passed on through generations in my family. It is a hexagon shape and very retro-looking in mustard and brown tones. I love that it's so unique.
9. Espresso machine
This is a stainless steel Domobar Vibiemme and sits on my kitchen bench, sparkling away.
10. Home-made slices
I bake at least three times a week. As a treat for my staff we have my homemade slice every single day. It is also the perfect accompaniment with a flat white made on my machine at home. My favourite would probably be pistachio and ginger slice, as it is so simple and easy to make but so good.