It Chooses You by Miranda July
Canongate $40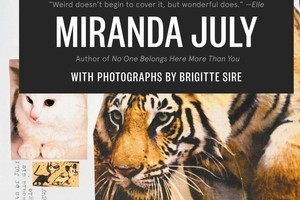 To judge by online reviews, Californian arthouse film-maker Miranda July's movies are something you either love or hate. And it seems her writing is much the same. It invites labels such as quirky, offbeat, whimsical and self-absorbed - all little signals that it will not be to everyone's taste.
In mid-2009, struggling with her latest screenplay and desperate for distraction, July picked up a copy of the PennySaver (apparently a Los Angeles version of the Trade and Exchange) and found herself wondering about the people offering the assortment of oddments listed for sale. And - deploying the kind of determination that separates artists from the rest of us - she decided to find out about these people. She picked up the phone, and somehow persuaded 13 PennySaver advertisers to submit to interviews about the intimate details of their lives, and photographs to boot.
It Chooses You describes these encounters. July must have known she'd struck the jackpot with her first subject, 60-something taxi driver Michael, who was selling an old leather jacket for $10 and who just happened to be planning to put the proceeds toward his sex change operation.
Each of her subsequent interviewees were similarly colourful or eccentric, ranging from the exuberant and enterprising - Indian Primila, selling saris; 70-odd Pauline, selling a battered leather suitcase - through to the sad - Domingo (assorted Care Bears) who lives in a garage and collects photographs of cars, jails, police cars, children and girls; 17-year-old Andrew (tadpoles), who dreams of being an engineer but who has been earmarked for perennial failure by the education system. Then there is the definitely damaged and creepy - Pauline's grandson Raymond, a mannequin delivery person who just happens to have a mannequin custom-made to resemble actor Elizabeth Hendrickson in his bedroom, close to a framed photograph of himself posing with Hendrickson; and Ron, who midway through the interview hikes his jeans leg up to reveal a home detention anklet and is cagey about its provenance.
As the book progresses, July's own character becomes more obtrusive, especially as she realises that she wants one of the characters in her screenplay to encounter the kinds of people she has met through her PennySaver quest, and that those people should play themselves. She auditions solo mum Dina ($5 hairdryer) and her daughter Lenette, before hitting upon Joe, an elderly "obsessive-compulsive angel" and composer of dirty limericks who is selling Christmas card fronts. Joe's her man, and suddenly the filmscript that's been dying a death on her desktop is game on.
Strangely, this odd little piece of voyeurism works. July is receptive - to a fault, perhaps - to the pathos in the lives of others, and respectful to the point of piety.
It also helps that Joe learns he is terminally ill in the midst of the shooting of July's film: that kind of twist can't be scripted. All in all, it's a window on the creative process, and a reminder of how much stranger than fiction "real life" can be.
The film in which Joe starred, incidentally, is called The Future and is coming to a film festival near you. See it. You'll love it - or hate it.
John McCrystal is a Wellington reviewer.