The Household Tips of the Great Writers by Mark Crick
Granta $29.99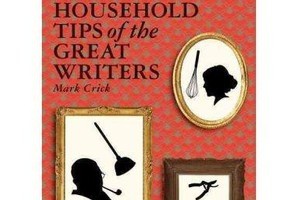 Advice on Do It Yourself, Cook It Yourself and Dig It Yourself, written in the styles of over 40 famous or infamous writers. Steinbeck and Pinter on cuisine; Hemingway and Sartre on household maintenance; Brecht and Neruda on gardening. What a neat idea. What a nimble execution.
British writer Mark Crick's literary pastiches have already been published in three separate, smaller selections. I'd never heard of them; my life was shallow and incomplete.
These parodies aren't only deliciously accurate, they're also entertaining, engaging, and even educational in their own rights/writes.
In the kitchen, Kafka prepares soup for some ambivalent, alienating guests. Proust turns a tiramisu into a Recherche des Oeufs Perdus. The Marquis de Sade does R18 things with a couple of chickens and some mushrooms, while Chaucer does an onion soup in rhyming couplets ("Strewe thereto nutmeg grated, tho some keep by,/ And grounde gyngere, and return to the fyre").
Meanwhile, Homer's swift-footed Achilles, wily Odysseus and wide-ruling Agamemnon get together for a rabbit stew, making sure the bronze cauldron is removed from the fire so bunny can marinate for 30 minutes.
In other rooms of the house, Dostoevsky broods blackly as he tiles the bathroom. Samuel Beckett waits for Godot, and for the drawers of a wooden chest to come unstuck. Julius Caesar knocks up a shelf ("The house comprised three parts, the upper floor, dominated by the Adulesceni, the ground floor, under the control of Caesar's wife ..."). And, in one of the funniest fantasies, Hunter S. Thompson erects a fence, helped by tequila, whiskey, cocaine and a shotgun.
Out in the garden, Martin Amis is disgusted by the clammy sexuality of a potted palm. Ibsen's couple unearth dark and desolate secrets as they plant an apple tree. Encouraged by the local anarchist, mocked by the local schoolteacher and local barmaid, Zola's protagonist brews up a batch of weedkiller.
Mark Crick doesn't just know his writers; he enjoys them - their blunders as well as their brilliance. He's wonderfully affectionate as well as wonderfully authentic. He treads the skinny median between being obvious and being obscure with never a tremor.
It could so easily have been cute and cloying. Instead, it's a joy. As Francis Bacon meant to say, "Some books are tasteless, some are jerry-built, some are raked together, but this ain't any of those".
David Hill is a Taranaki writer.