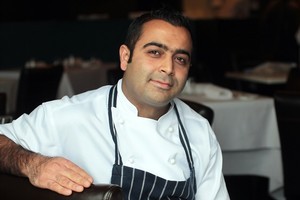 Test kitchen Tuesdays
Following the likes of Ben Shewry of Attica in Melbourne, Sid Sahrawat is tempting diners to join him at his restaurant in Ponsonby, Sidart, for his Tuesday Test Kitchen. Sid and his talented team test recipes on this night and there's only one eight-course menu on offer. It's a case of eat what you're given but with such talent in the kitchen as this, we're pretty sure it's a safe bet. $80 per person (wine matching add $65). Bookings essential. Ph (09) 360 2122.
Generosity abounds
After the February earthquake last year Christchurch Japanese restaurant Tatsumi was red-zoned and had to close. Owners Yoko and Koichi Kigami made the difficult decision to relocate to Auckland. Tonight they are staging a one-off event at their new location, in Newmarket, where they will generously offer a free meal to other Cantabrians who also made the tough choice to move to Auckland. They want to honour their courage. For bookings phone (09) 529 4422.
Soul food
We never need an excuse to dine at Soul Bar & Bistro or to shop for a new handbag but when the two are combined, we're there immediately. In support of the YWCA Future Leaders Mentoring Programme Deadly Ponies and Soul Bar have combined to bring an afternoon of fabulous food and the opportunity to bid on some of the stunning bags from the 2011/2012 Deadly Ponies collection. Tickets include a three-course lunch and glass of wine and $30 from every ticket goes towards the programme. Tuesday 28 Feb, $70, 12pm-2pm Soul Bar, The Viaduct. Book online or ph (09) 375 9242.
Get stoned
Stone fruit are the defining fruit of the summer in our books. The variety and sheer deliciousness of tree-ripened plums and peaches available at farmers' markets at the moment is unbeatable. Greengage plums, white peaches, yellow nectarines - they're all fabulous. Eat them fresh but remember to preserve a few jars for brightening up even the deepest darkness of a winter's day.
Travelling tastebuds
The last Monday of every month sees a new pop-up restaurant - The Tasting Lounge - move into the Wynyard Quarter. Housed within Marvel Grill, each month will be a celebration of the best cuisine from a different destination or travel experience. The food will be prepared by MasterChef winner Brett McGregor and the evening will be hosted by entertainer Jackie Clarke.
Monday, Feb 27 - Destination Sydney. $99, includes meal and wine.
Bookings: mondotravel.co.nz/tastinglounge
Tasty collaboration
Bringing an added flavour to the hype around the New Zealand Fashion Festival is Cloudy Bay wines. They have teamed up with designers from fashion labels Coop and Moochi, and chef Jamie Miller of Mint Kitchen to create a unique marinade for olives. Not the toughest of jobs surely, sipping wine and coming up with a tasty new flavour. But that's exactly what they did; settling on a combination of orange, cardamom and vanilla-soaked olive. Try them for yourselves at the official on-site bar during New Zealand Fashion Festival from Monday, February 27, the same evening that both designers showcase their collections. Available until Friday, March 2, the Cloudy Bay Designer Olive Bar will be located at the centre of all the action in Shed 10 on Queens Wharf.
Put it on the list
For when your efforts to "caramelise the meat" or "brown the onions" goes a little too far! These colourful pot scrubbers are functional as well as pretty. Available at Garden Party Ponsonby Rd.