Find more restaurant reviews with our Google map
Herald on Sunday Rating: 4/5
Address: 48 New North Rod, Eden Tce, Auckland 1021
Ph: (09) 308 9022
Website: grano.co.nz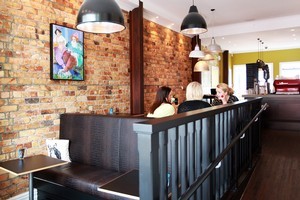 Regular readers of my restaurant reviews have probably worked out that the Professor is not a shrinking violet. In her salad days, she assembled a pretty impeccable feminist pedigree - wearing pink overalls and throwing paint-filled eggs at sexist hoardings and stuff - before devoting her life to contributing to what professors call "the literature". So I had a quiet chuckle when I placed our order at Grano.
"She wants the croquettes," I said to the woman taking our order (she also runs the place). "Do I?" asked the Professor, who hadn't looked at the menu yet, and I said: "Yes, you do", before going on to order the entire meal.
I could just imagine the waitress going inside and saying to the chef that "there's a man at table four who is a serious control freak, with a woman who obviously never heard of feminism".
It's entirely possible she did no such thing, but just in case: she may rest assured that if the Professor didn't want what I'd ordered, I and the waitress would have heard about it, in no uncertain terms, at precisely the same time.
It was Friday evening when we showed up at Grano. It's a time of the week when dining out at languid leisure is not really on the cards, but you do want to kick back and have a drink and something nice to eat. Fortunately, we had come to just the right place.
From the street, it looks like a hole-in-the-wall sandwich bar and the part of town it inhabits, full of drab commercial buildings, doesn't encourage you to expect much more than pies and Sally Lunns.
But step inside and you enter a long brick-walled room, which gives on to a lovely deck that unabashedly speaks of the inner city. You can get a view if you peer over the chin-high wall that surrounds the deck - of Mt Albert and, far in the distance, the Manukau Heads. But the main outlook is TV3's mossy satellite dish, and tall walls which creepers struggle to adorn. It feels like New York or Berlin and it's great.
The menu of small plates is small enough for four people to comfortably put away everything over a few glasses from the small but inventive drinks list - four bubblies, six reds, eight whites, eight beers and a handful of soft drinks, too.
We bypassed the very small nibbles (almonds, olives and a pecorino and pear salad at between $4.50 and $6.50) and moved to the $10 plates. Two large, paper-thin slices of delicious jamon serrano (Spain's resounding answer to the Italians' prosciutto) were excellent, paired with a smooth fig paste. The tapas classic, patatas bravas, are there, enlivened with chorizo, but we were more interested to see what they'd do with the ubiquitous squid.
Quite what lent the tang to the chilli dipping sauce that came with it I was unable to wring out of the chef ("Keep guessing," was the message that came back from the kitchen) but it was great. A honey-like sugar syrup was delicately zested with chilli and (perhaps) cider vinegar to make a concoction that was almost worth sipping in its own right but worked perfectly with the lightly battered squid rings.
My pre-emptive ordering of the tarakihi and zucchini croquettes worked out fine, too. To cope with a tide of zucchini in the garden at the moment, I'm cooking fritters a couple of times a week but Grano's were more like little arancini fish-pies - creamy inside and with a delightful hard crust the colour of mahogany.
We could only manage two of the dishes listed under "other". One was seared kingfish, sliced so as to reveal the raw flesh within, and paired with a delicious Canterbury-made Coppersfolly wasabi that is creamy-golden in colour, more like European horseradish than the bright-green wasabi in your sushi box. Recommended.
Our final selection was made from pork shoulder, slow-cooked and served "pulled". It was a bit dry, but, accompanied with an Asian-inspired cabbage slaw and sitting on a coconut puree, another example of the bright and original cooking this place offers.
It's only been open since October and was quiet as the grave when we went - though that was Waitangi weekend. I recommend a visit, sooner rather than later.
Need to know
Value: $$
$ = $20-$40; $$ = 40-60; $$$ = $60+.
(Price guide reflects three courses for one person without drinks.)
Also try
There's not much in the immediate neighbourhood, but Kingsland and Symonds St are not far away.