Here are a few choices to help you decide on where to brunch with the young ones.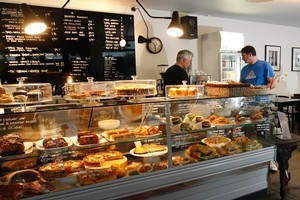 The Luscious Food Store
547 Te Atatu Rd, Te Atatu Peninsula
With a spacious outdoor playground, including wall-mounted chalkboard, a go-kart and sandpit, this is a great place to head with the kids. There are plenty of high chairs and even a Little Monkeys children's menu with teething biscuits and organic baby food. The food for grown-ups is fantastic too - choose from the many offerings in the counter cabinet or from the extensive menu. Terrific coffee.
One 2 One Cafe
121 Ponsonby Rd, Ponsonby
The charming garden out the back is perfect on a sunny day. It's on two levels, giving the little ones enough room to run around while you enjoy your breakfast. Speaking of that, the food is a winner.
Mecca Stonehouse Cafe
44 Tamaki Drive, Mission Bay
Let the kids loose on the beach and the playground before adjourning to the Stonehouse for a bite to eat and well-deserved coffee. The waterfront location make this a popular summer spot but we've always managed to get a table. We like the more unusual menu offerings and the separate counter set up for takeout coffee.
The Library Cafe
55 Princes St, Onehunga
Not only is the beautifully restored heritage building a drawcard, so too is the setup. The owners have taken little ones into consideration, offering blocks and other toys to keep them amused. There are plenty of menu options for the junior members of the family too. The Library Cafe is hugely popular with locals for good reasons - great service, terrific food and a top location.