The Dovekeepers by Alice Hoffman
Simon & Schuster $37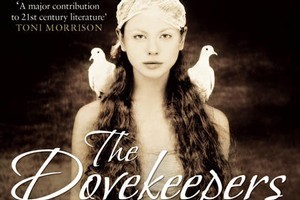 In an age where the care of ourselves has become a religion - and old-fashioned religion is viewed as superstition by many - Alice Hoffman's book presents an almost-forgotten way of life.
This story of love in all its many forms, but especially love for one's children, pulls at your very core. The constraints and philosophies Hoffman's heroines live by are rare in today's world.
People can see into the future; lives and deaths are predetermined at birth; magic, especially women's magic, plays an important role. To give one's life for one's child, one's lover, one's friend or one's god, is the highest honour. Suffering and death are an inescapable part of life, especially for women. And the "world-to-come" is inextricably part of the whole.
The setting for The Dovekeepers is the fortress of Masada, on the edge of the eastern Judean desert. It is AD70: the age of the first Judea-Roman war.
Jerusalem has been taken by the Romans. Legions of soldiers stalk the desert, looking to capture and enslave or kill outcast Jews. And 900 Jewish refugees and their families attempt to wait out the war in the fortress-like palace of Masada. But then the Roman troops station themselves at the foot of the mountain, waiting.
Until this novel there was only one account of the siege of Masada. The ancient historian Josephus, unsurprisingly, wrote about Masada from a male soldier's point-of-view. Hoffman writes from the female perspective.
The dovekeepers are four Jewish women who, in a bid to save their children's and their own lives, find their way to Masada by different routes. Here, in a natural cleft in the rock, built into a palace by King Herod a century earlier, they are assigned to work in the fortress dovecotes.
They feed the birds, collect their eggs, sweep up their droppings to fertilise Masada's orchards and gardens and, as years pass and famine begins to bite, slaughter their pets one by one.
Although the work is dirty and menial, or maybe because of it, the dovekeepers learn to rely on each other and become close, loyal companions.
These are not ordinary women. All four have been abused and broken in some way, then strengthened by that break.
The book is roughly divided into the histories that bring them together in Masada. There's the assassin's daughter, Yael, whose mother died in childbirth, causing her father to loathe her forever; Revka, the baker's wife who witnessed the rape and torture of her own daughter, then used the rage it inspired to gather herself up, poison the murderers and save her two grandsons; Aziza, a warrior's daughter who was brought up as a boy to protect her from the attention of men, and who became one of Masada's most fearless and expert marksmen; and Shirah, the woman who became known as the Witch of Moab because of her extraordinary knowledge of ancient medicine and magic.
Their stories, and many more, are leaked out, little by little, over the 500 pages of this compelling book. All are tragic and thrilling at the same time. And all are tinged by the fact that only seven people escaped from Masada.
What the cover doesn't tell us in detail is the harrowing climax to the siege of Masada. Josephus' writings had it that, when the Jews finally realised the Romans were about to breech their stronghold, they decided they would die martyrs. Rather than be killed or enslaved by their enemies, they would kill each other. A group of elite warriors are assigned to slaughter everyone else: men, women and children. To burn the trees and furniture, kill any animals, leave nothing for the Romans.
Only two women refuse to submit. And only they, and five children, make it out alive.
Hoffman's treatment of this story, and the imagination and research that bring it together, is breathtaking. Reading about a biblical era, from a female viewpoint, is new and refreshing. I enjoyed the rich, poetic voices of her heroines and her courage in drawing women from AD70 as brave, clever, independent characters: the feminists of their day.
Their personal histories, especially before Masada, help bring to life the bloodthirsty, carnal, violence of the times they lived in. The witchcraft they practised to survive, the horrors they had to overcome and the ferocity of their fights to save their loved ones yanked on my modern, so-civilised sensibilities.
A sobering and inspiring read.
Carroll du Chateau is an Auckland reviewer.