Hinterland by Caroline Brothers
Bloomsbury $36.99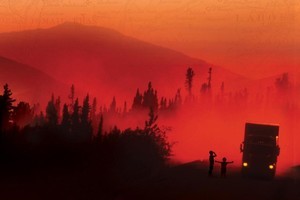 I thought this might be too sad to read. What a luxury to feel that way, when hundreds of thousands of children around the world are struggling for survival in just the same way as the two fictional Afghan boys whose stories are told here.
And yes, it is sad, but it is also wonderful and utterly necessary, and I am so glad I put aside my trepidation and read it.
Author Caroline Brothers is an Australian journalist based in Paris, working for the International Herald Tribune and the New York Times. One day she met a friend at a café on the very edge of a large park and, as night fell, she observed dark figures climbing over the park walls and dragging sheets of cardboard from various hiding places.
She talked to some of those people and found many were Afghans and among them were children who had made the long perilous journey to France after their homes and families had been destroyed as a result of the war in their homeland.
Her story made the front page of the New York Times but then, as she told one interviewer, "nothing happened ...
the world moved on". She, on the other hand, couldn't get those children out of her head. She thought perhaps a novel would have more impact, and so she turned her hand to fiction. The result is a book that captivates, fascinates and thoroughly engages - as well, inevitably, as horrifying and enlightening. But we cannot turn our faces away.
Aryan and Kabir are brothers, aged 14 and 8. Their family all dead, there is virtually no one in the world who would notice if they died. We join them as they leave Turkey on an illegal, perilous journey into Greece, through Italy and into France, from where they hope to make their way to what they believe is an El Dorado: England, where they will go to school and live in peace and plenty.
It is as if Brothers has taken our usual mental map of Europe and over it superimposed a completely different one. Istanbul is not the Blue Mosque, but the sewing factory where children work 13 hours a day; Greece is not the Acropolis but a farm where Aryan and Kabir work as slave labour; Paris is not the Louvre, but the park where children sleep at night.
Aryan and Kabir are at the mercy of the adult world with its greed and perversion, and its occasional generosity. Behind every vagabond child must lie a similar story. Brothers catches one droplet from the great wave and invites us to look.
Margie Thomson is an Auckland reviewer.