Get the glow as modelled by one of our own.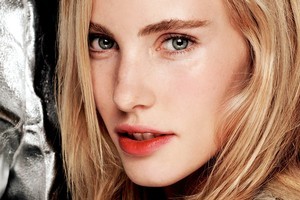 New Zealand model Emily Baker is a poster girl for modern beauty. The razor-cheeked Matamata teenager, who was named one of the top 10 new faces on the international modelling scene early last year, features in an editorial shoot in this month's British Vogue and her image has also been chosen by M.A.C to typify its latest makeup trends.
This shot, taken backstage at the Giles show in London last season, appears in M.A.C's latest global trends forecast in which the dominant makeup company on the international show circuit draws together ideas trialled on the runway that will influence products available soon to shoppers. We've singled it out, not just because of the Kiwi connection, but because it perfectly encapsulates the look that best translates from show to street. The emphasis is on a glowing natural complexion, a groomed yet boyish brow and a shot of casually applied lip colour. The aim is to achieve the appearance of flawless skin, but keep the overlook real.
M.A.C's senior makeup artist in New Zealand, Amber Dreadon, talked about the trends with the benefit of having worked on the show circuit from which they were drawn, including doing Baker's makeup at Giles. She says it's always a lot of fun catching up with a fellow New Zealander during such a busy time.
New York-based Baker is currently ranked No 31 of the top 50 women models worldwide on the influential models.com website. She has shot advertising campaigns for Gucci as well as walking for Prada, Balenciaga and a host of other top designers. Dreadon is about to head off to join the action at Paris and London fashion weeks , but will return to present a trends overview to the public at the New Zealand Fashion Festival taking place in Auckland from February 24. In a sneak preview, she says crafting enviable skin is key to the latest looks.
"That's easier on perfect children," she jokes of some of the young models she works with overseas. Baker, apparently, has a tendency to flush, so the trick with her is to build a base that camouflages any redness without too many ageing layers. The secret is in priming skin and then brushing on foundation only where needed with transparent setting powder used sparingly.
Finer new product textures which provide medium coverage without too much obvious coating are what allows skin to star. Dreadon says this is the reason skin is increasingly the focus of modern makeup done well, after a previous reliance on colour on eyes and lips for impacts. Those trends are still there, but not as dominant, and with application that leaves a less hard-edged look, as with Baker's lips.
Lucia Peroni, the lead makeup artist on the Giles show, describes it rather appealingly as "with stained lips from kissing after too much red wine".
* Viva will take an in-depth look at makeup trends and new products across the brands in our winter fashion issue out on February 29.
New model army
The Arab spring has unleashed a new phenomenon on the Western world - Arab models. Leading the charge is Haana Ben Abdesslem from Tunisia, where the democratic uprisings rocking the Middle East first began. She has become a "face" for Lancome cosmetics, and her images will be seen here from next week fronting the brand's new makeup collection crafted by New Zealander Aaron De Mey.
Ben Abdesslem's look is reminiscent of Lancome's 80s star Isabella Rossellini, with her dark eyes setting off the pretty floral shades in the Roseraie des Delices collection.
The 22-year-old studied engineering before winning family approval to begin modelling two years ago. Her brother is an actor and she accompanied him to auditions before trying out for a Lebanese show similar to Project Runway in which she was placed second. She discovered a career option that did not yet exist in her home country and was encouraged to try working in Paris by a Saudi agent. IMG snapped her up and the then Vogue editor Carine Roitfeld introduced her to Givenchy designer Riccardo Tisci who opened his 2010-11 show with her. French Vogue then featured her saying: "While the giants of cosmetics are finally beginning to fight over alternative and ethnic beauties, Hanaa, who is pushing for the independence of the Arab woman, could well become the figurehead of the post-orientalist movement."
The poised Ben Abdesslem has found herself thrust into the role of a defender of fashion and has become an advocate for aspiring designers in her home country and the potential opportunities the business offers Arab women. She works with several charities and has an interest in a United Nations development programme on democratic transition in Tunisia.
Turning Japanese
Academy Award-winner Jennifer Connelly has signed up as the first global spokesperson for Japanese beauty giant Shiseido. She will front for its premium Future Solution LX skincare range from spring. The association is not new; more than two decades ago as a young model she appeared in an Asian advertising campaign for its makeup. "We are thrilled to welcome Jennifer back to our family as we celebrate our 140th anniversary," said Hiroshi Maruyama, general manager of international marketing. "We believe that she portrays the essence of the Future Solution LX line perfectly and that her inner and outer beauty will inspire our customers."
Nature's bounty
It's a bumper year for New Zealand avocados, so eat up secure in the knowledge they are good for you. If you do have surplus of the tasty treat then you can also use them as a natural beauty aid. Companies including Antipodes already rely on avocado oil as a key ingredient, but the flesh can also be applied direct to your skin as a moisture treatment.
"Avocado contains oil beneficial to rejuvenating your skin so is great for repairing and protecting dry skin. This natural ingredient is also loaded with antioxidants and fatty acids to help prevent sun damage and premature ageing. Vitamin E helps eliminate cellular waste and encourages the growth of new skin cells," explains Midge Munro, communications manager of the Avocado Growers Association.
Try crescents of the flesh as an eye mask or mash up half an avocado and mix well with a beaten egg yolk for a mask to place on the face and neck. Relax for 20 minutes then remove with warm water and a face cloth, before a cool rinse.
Those with oily skin can substitute egg yolk for egg white and add a teaspoon of lemon juice for a tailor-made mask. Or add a couple of spoons of oatmeal to the above mix to make a blended paste which can be left on hands, elbows or feet for 20 minutes where it will serve as an exfoliant. The inside of an avocado peel can also be gently rubbed in upward motions on a dry face where it will deposit an enriching oil residue. Avocado season runs until April.