When Cinderella hour rolls in, Wendyl Nissen's got to go - and she expects her guests to follow suit.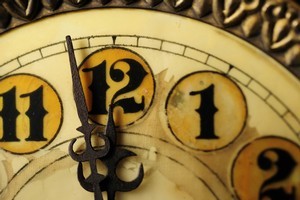 "You can't send us home, it's barely gone midnight," said a horrified guest at my table last weekend.
"I don't care. Go home."
There were six of us assembled around our big old kitchen table. At one end my husband was doing a very good job of pretending he wasn't asleep by managing to keep one eye open while the other one had a quick doze and then swapping eyes, thus maintaining a sort of half sleep while sitting up. Across from him another friend was less inclined to keep up appearances and had rested her head on her partner's shoulder and was snoring in unison with our old dog, who was also asleep at her feet.
I was jetlagged, so technically should have been asleep as well but one of our guests had brought some manchego cheese and there was no way I was closing my eyes before I had crammed some of that sheep's milk delicacy down my gullet.
"I usually stay up until 5am," said the disgruntled guest. "And I fully intend to do so tonight."
"Well, do let me know where that ends up happening, because it won't be here. Off you go you lot," I said, before instructing someone to ring a cab.
I know it was rude. But, fortunately, I had invited good old friends to dine and had spoiled them with fried courgette flowers and beetroot gravlax salmon and my husband had made them delicious cocktails. I knew they'd be back.
"I blame my parents," I explained to my husband when he woke the next day and suggested I may have been a bit inhospitable. The one eye which had remained open had apparently registered this bad behaviour on my part.
My parents used to give a lot of dinner parties. Barely a weekend went by when Mum wouldn't get me to iron the table cloth and serviettes, set the table and then make my "famous cheese straws". I would then have to rush off and put on my dress which was kept for best so that I could hand the cheese straws around the assembled guests as my mother chimed: "Do have some of Wendy's famous cheese straws!" ( My parents named me Wendyl but I had insisted that I be called Wendy so as not to stand out in a crowd. Unusual names are so awkward when teachers call rolls.)
The guests would be starting their night with a gin and tonic or whisky and dry before they broke open a Wohnseidler or a Mateus Rose and really started enjoying themselves.
I would then retire to the TV room while the adults made their way through such 70s' culinary delights as shrimp cocktail, duck a l'orange and bombe Alaska. This was before the fondue craze started, which my mother found a much easier dish to serve.
At around 11 or 11.30, guests would be offered coffee or tea. Which they would accept and see as a signal to get in their car and drive home, after my father had performed the death-defying feat of backing their cars out of our difficult driveway and handed over the keys to his well imbibed guests. No drink-driving message in those heady days.
Mum and Dad would then snuggle up on the couch with a Cointreau and discuss the night's events, before heading off to bed, well before the clock struck 12. Very sedate.
As a result, I've never been asked to leave a night-time event because I'm always the first to go, dreaming of my warm, cosy bed as the taxi ferries me home before midnight.
But, then again, no one's ever insisted I stay either.
"You might like to drag yourself out of the 70s sometime soon," said my husband as he threw empty wine bottles in the recycling bin.
"But you can keep making the famous cheese straws if you like."