When Gill South was feeling all fingers and thumbs - painful ones - she headed off for expert advice.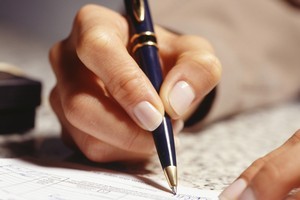 Now, as you know I'm not one to grumble, (no need to respond to that) but my hands, specifically my thumbs, mostly my right hand, were really hurting by the end of December.
I racked my brain over what had caused it. I tend to do a million interviews during that month, before everyone disappears for the holidays. This involves me hand-writing literally thousands of words in my odd shorthand longhand scrawl. Also I was using new hand muscles with my brand new smart phone.
Whatever the cause, it just suddenly really hurt to do everyday things like squeezing a shampoo bottle, yanking a bag of groceries out of the car or turning the key in the lock. Did I have tendonitis or, even worse, early arthritis? My father, a sporty guy, has been battling it recently and it's been cramping his style at bowls.
I make an appointment to see Handworks hand therapist and physio, Angela Toemen. I have been to the hand rehabilitation clinic before. I tend to get right on to it if my hands or arms give me any pain, because if I can't write or touch-type, that's my livelihood down the drain.
Angela looks carefully at my hands, testing my thumbs from various angles.
My metacarpal bone in the thumb is sitting out a bit apparently and a ligament is lax. When I make a pinch movement (we make hundreds of these a day - turning a key in a lock, picking up a book from a bag, putting on earrings) we load down through the first CMC (carpometacarpal) joint. And, because the ligament has become lax, my metacarpal bone is tilting as I'm loading the joint abnormally. Trust me to be abnormal.
So if this techy stuff is making you a bit cross-eyed, I am underusing some of the muscles in my thumbs and overusing some of them. But the good news: it isn't tendonitis and it isn't arthritis.
Angela tells me women have more problems with their hands as they get older than men do. We particularly get degeneration around the first CMC joint.
To ward off this degeneration, I'm going to have to start "changing the habits of a lifetime". Things like the way I hold my pen - rather than squeezing the pen with my thumb and second finger, I should have my thumb and third finger curling round the pen in the shape of an O. Angela recommends using a wider pen, one whose ink flows easily so there's no pressing down on it. Frankly I use any pen that works in the house, fat or thin and, in moments of urgency, this might sometimes mean one of the kids' felt pens.
Don't do anything that causes your hands pain, advises Angela. When squeezing the shampoo bottle, use both hands and think about getting an electric tin opener.
She gives me some exercises to strengthen the underused muscles in my hand.
One is a bit like the scissor movement in paper, rock, scissors. I'm to exercise the flexor pollicis brevis muscle (a muscle in the hand that flexes the thumb).
Tennis might not be a bad idea either, because the hand wraps round the grip in a nice "O".
Next week:
In a bid to mitigate any sun damage I've suffered over the summer, I'm having a treatment at the Arya Day Spa which will be looking to diminish any age spots I may have collected in the last year. I'm hoping it doesn't hurt.