The street food trend has hit Auckland in a big way. Alexia Santamaria checks out the best of these gourmet mobile units.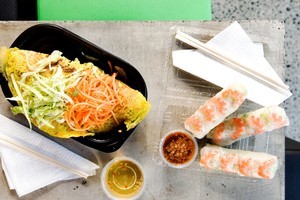 Eating at restaurants is so old-fashioned. With way more bang for your buck, it's all about food trucks - or at least mobile food, even if it's not on wheels - right now. Fast, cheap and delicious, you can now experience street food at a number of locations around Auckland.
While we're not yet LA, New York or Portland there is definitely a growing mobile food scene here. People are flocking to the night markets at Pakuranga, Glenfield and the new Silo Sessions to lap up Dutch poffertjes, Korean pancakes, Hungarian pastries, Japanese takoyaki and a wealth of other delights from all corners of the globe.
Of course some countries have been doing this for years. The hawker stalls of Singapore and Penang are world-renowned and in the last five years the food truck scene in the States has exploded. There you can find "pods" everywhere with seven or eight trucks in the same location every week.
Social media plays a big part in the mobile food business here. Many operators don't even bother having a website as the information/venues are always changing. Make sure you "like" all your favourite food-on-the-go on their Facebook pages so you know where to find them when that taco/pizza/sausage/churro craving hits!
Here are some of our favourites for food on the go in Auckland:
This is the original version of what is now Saigonz Restaurant in Beach Rd. They only had the caravan until 2009 when they found a permanent home in the CBD. But they haven't forgotten their humble beginnings and you can still find their pho, salads, fresh and fried spring rolls, curries and lemongrass dishes at Takapuna. Ma Le is the mama in charge of the menu and her food is good. We love the chicken salad but it's all pretty tasty, authentic Vietnamese.
Location: Takapuna Markets
Ph: 0800 SAIGONZ (7244669)
Rob Roughan is a hospo from way back, having owned and operated Auckland favourites Beresford's and Craft. In December 2007 he started this mobile business as he saw the need for quality fresh food at events. He now has two mobile wood oven tandem trailer units and a customised wood oven container kitchen and can pump out 175 pizzas an hour with two ovens blazing. Try his classic margherita or Italian sausage toppings.
Locations: Various events - next are Classic Hits Winery Tour at Villa Maria Estate; Splore; Devonport Food and Wine Festival and WOMAD.
Ph: 021 201 9206
When Sretko Nenadic was made redundant from his job at Fisher and Paykel, he took a trip to Melbourne. After seeing a churro stall with long queues he wondered whether it would be something he could replicate. Being an engineer he made his own machine and two years later has three units, is at six weekly venues and has queues longer than that stall in Melbourne. Churros come in regular, drizzled in chocolate and caramel and a jumbo size with a gooey caramel centre.
Locations: Pakuranga and Glenfield Night markets; Silo on Friday nights; Otara markets; Takapuna Markets; AUT Campus
Ph: 021 060 1735
Sam Sargent has followed the food truck revolution in the States very carefully and even worked with Koji BBQ of LA when designing his business. The gourmet sandwiches and salads fly out the window with a regular crowd of city workers. Part of the appeal is the very cool silver truck, loud music, tables and fake grass outside. It just looks like a cool place to be. Try the Angus Pure beef sandwiches. Heaven for carnivores.
Location: Corner of Tyler and Commerce St, Britomart
Ph: 09 300 3089
The quality of food in some trucks is beyond what you may expect. Frenchman Nico Fini has worked in Michelin-starred restaurants and was head chef at a restaurant voted in the top 20 by Gault & Millau. He has had his food cart for 14 years and has recently relocated from Christchurch where he has been known to sell more than 2000 snails and 700 lamb shanks on a good day at a festival. He has adapted his food to New Zealand palates but always retains the Frenchy flourishes like the spicy lamb sausage in the mega-dog and the burger made with a venison patty. For those looking for the real French deal you can't go past his escargot and lamb shanks.
Locations: Various events - next are Devonport Wine and Food Festival and Waikato Wine and Food Festival
Ph: 027 642 0315
Siri Taste of Sri Lanka
Sri Lankan food is nowhere near as big as Thai, Japanese or Indian here but Nandasiri Alwis has been doing his best to educate us on his country's cuisine. It's working, as he's gone from his one mobile unit to an outlet in Mt Roskill and now a restaurant in Sandringham too. His chicken appa kottu is amazing. It's a wafer-thin bowl made from rice and coconut milk batter filled with spicy chicken curry. He also serves curry rolls, curry puffs and chicken roti wraps.
Location: Pakuranga Night Markets
Ph: 027 4818219
A friendly, laid-back Californian, Marsella recreates her grandmother and mother's Mexican recipes with her own personal flare. The fresh home-made tortillas are beautifully soft and the meat and sauces are juicy and delicious. She also sells salsa roja, hand-smashed guacamole, homemade tortilla chips, six-layer bean dip, enchiladas, tamales, and fresh home-made corn tortillas to take home. Marsella will be going home for a few months soon but keep a look out for her return with even more inspiration.
Location: La Cigale Markets; Coatesville Markets
Ph: 022 3154256
Dave O'Hagan is a young guy who likes pies. He also knows other young guys like pies, especially after a few beers, so he sets up at big events and helps to satisfy that craving for soft meat, good gravy and flaky pastry when it hits. "Pies are just great and our original plan was to take this Kiwi classic to Northern Ireland, where our friend said they didn't exist. It's still part of the grand plan but we're loving Auckland for now."
Location: Various events - next is the Splore Festival
Ph: 022 0402757
Gracing central Auckland since 1948, the White Lady is the grand old dame of food trucks. After a big night out on the town many an Aucklander has found themselves queuing up at 3am in front of this icon, for a burger they struggle to get their mouth around.
Location: 18 Commerce Street
Ph: (09) 379 5803
With Nico Mendez's Uruguayan blood and passion for street food and Sarah Ginella's New Zealand reputation as a top chef, this is a match made in heaven. Check out the mandioca chips with smoked garlic aioli, empanadas, ceviche with blood orange and watercress salad, chorizo with chimichurri rolls, gazpacho soup with chilli and coriander prawns, chivitos and other gorgeous South American delights. This is the real deal. Look out for them in a permanent location later this year.
Locations: Various events - next are Devonport Food and Wine festival, Hilltop sunset concert, Beer Festival
Diane Stanbra loves a good picnic and realised she might not be the only one. "Picnics are great, but people sometimes find it a hassle to get all the bit and pieces together. We decided to make that easier," she says. The boxes are reasonably priced and you can get an antipasto, a cheeseboard, a movie mix, roast chicken or glazed ham box. The ingredients are all top quality with products such as Freedom Farms ham, Over the Moon cheese and Loaf brownies.
Locations: Silo Park Fridays and Saturdays
Ph: 0508 picnic (742642)
Inspired by the New York Food truck scene when she lived there, Billie Neilson joined up with Will Keely to start Banger Boys in 2009. Billie has a background in catering and Will is a cordon-bleu trained chef and they saw a gap in the market for good quality sausages served in freshly baked ciabatta-style artisan rolls with home-made caramelised onions, aioli or plum sauce. They tend to go from event to event but have recently become a regular at Silo.
Locations: Silo Friday and Saturday, Villa Maria concerts Day on the Green series, Big Gay Out, NZ Open Polo Tournament, WOMAD
Ph: 021560140
'Offshore' food trucks
There are two mobile units on Waiheke Island which need a mention. El Sizzling Chorizo and Dragonfired Artisan Woodfired Food have both been showered with praise from food media over the last year. Try the hand-made Argentinian chorizo and other carnivorous delights at El Sizzling Chorizo and don't miss the amazing pizzas, Mexican bread pockets and polenta plates at Dragonfired.
El Sizzling Chorizo: Wednesday, Thursday and Friday till late at the Presbyterian Church in Oneroa, Saturday at Ostend Market and Matiatia market on Sundays (call 0211 811 224 to check); corra.co.nz or El Sizzling Chorizo on Facebook.
Dragonfired Artisan Woodfired Food: Little Oneroa Beach 11am-8:30pm every day in summer (call 021 922 289 to check) or Dragonfired on Facebook.
Coming soon: Permanent street food at Ponsonby Central
In September you'll be able to get that street food feel in a great new complex in Ponsonby. Alongside clothing and shoe outlets will be some top food retailers with a focus on the process of making food (ie you will be able to observe them at their craft). It will include Maldito Mendez, Paris-Berlin artisan European bakery, the famous Dante's Pizza, Neat Meat as well as Salash cured meats, Art of Produce and Kohu Road.
Pizza and patisserie ovens, meat-curing rooms and icecream churns will all be on show and the area will be licensed so you can grab a glass while enjoying your food.
Watch this space, corner of Richmond and Ponsonby Rd.