A Waiheke Island couple incorporated an Asian connection in their new home.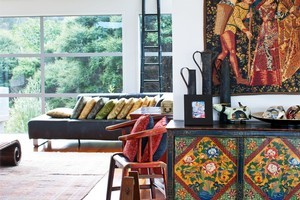 Keeping an ideas book helped Sarah Judkins and husband Jason realise their vision for a family home on Waiheke Island.
The book helped them cement their vision and form a wish list with accompanying photos clipped from magazines. Features they had set their hearts on included light and airy spaces, a separate bedroom area for children, high ceilings, lots of windows to bring in natural light, a separate dining area and family room, and bifold doors.
"I found it two or three years after we built and thought, 'wow, we did actually get all of those things'," says Sarah.
It also helped that Sarah's father is an architect, so she already knew a fair bit about what makes for good home design.
Sarah and Jason were living in Hong Kong when they bought the 4ha Waiheke Island site on Jason's 30th birthday in 2000.
Sarah's father suggested moving the existing single-storey house to the front of the lifestyle block and levelling a building site for their new home.
They followed his advice and now rent out the original house.
"Starting with a flat building site was the best and most economical thing we did," says Jason.
The Judkins love the rural feel of their land, with the house looking out over the syrah grapes they grow for Kennedy Point Vineyard and across the valley to Putiki Bay.
Sarah says there's hardly anything she'd change about the spacious home. "I gave Dad a brief for a house that was solid, had a timeless design, was symmetrical and had two storeys," she says. "From the moment we saw his plans, we loved it.
"The family room works well - it's north-facing and fairly spacious. And although the kids' bedrooms are on the south side, the warmth goes through [from the living areas] in winter and they're not too hot in summer. Dad was incredibly helpful during the build and has helped us with all the things we've done since, like the barbecue and the pool area."
And Sarah is thankful that they heeded her father's advice about not dropping the garage when they were looking to cut costs.
"We thought we didn't need it, but there's nothing better than having a garage in wet weather," she says.
"The one budget cut we regret making is not having a separate laundry. It's currently in the garage, but we're planning to separate off this area."
Style tips
Story time: Surround yourself with reminders of past adventures. The Judkins' décor reminds them of their time in Asia due to their returning from Hong Kong with two containers full of furniture, carpets and fabric.
Stand outs: To focus attention on special furnishings, keep your wall colours simple. Neutral walls provide the perfect backdrop for colourful, lacquered Chinese pieces.
Floor plan: Rugs are a useful addition in open-plan spaces - both for adding warmth to wooden floors and for helping delineate areas.
Leanne Moore is the editor of Your Home & Garden. For the full story on this house see the latest issue of the magazine.