Jack Holmes And His Friend by Edmund White
Bloomsbury $29.99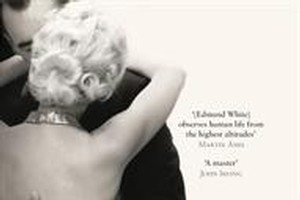 Edmund White has spoken repeatedly of his crawling conviction as a boy and young man that being homosexual was "bad". As this deft, often delightful new novel shows, it's a burden he's left well behind.
Gay Jack Holmes and straight Will Wright are best friends. They stay that way for over two decades, in a compellingly evoked, constantly morphing New York. Will stays that way, at any rate. Jack can't stop being in love with his friend.
It's a relationship that begins before gay liberation ("led by shaggy-haired leftists with smelly feet", huffs Jack) has gathered any momentum, and ends after Aids has gathered far too much momentum.
Child of an eccentric mid-Western family, Jack drifts to Greenwich Village, where he lives on waffles, sandwiches and the occasional banana. In the 1960s, the city is a "rusty but still functioning factory built by a giant", and Jack gets a job there on a literary quarterly after passing a lunch test with two elderly lesbians.
Enter patrician Will with the highly-polished shoes, who yearns to be a writer. Jack introduces him to lovely, vulnerable Alex, whom Will marries. Over the years that follow, Jack watches Will grow and his marriage shrink.
Borne along on torrents of declamatory Big Apple dialogue, some of which seems to come straight from self-analysis manuals, the plot follows Will as his corporeal skin clears up and his social skin thickens. He writes a novel ("piles and piles of remainders"); stops writing; goes on an African safari. More and more women find him more and more attractive.
Jack, meanwhile, yearns after him on multiple planes, simultaneously conducting absurdly, engagingly romantic affairs with a series of men, each of whom he hopes will be The One.
White is excited and enchanted by his people. He wants you to know all about all of them. If this novel has a flaw - apart from the author's insistence on the plasticity of everyone's sexual predilections - it's one of occasional excess.
There are brilliantly rendered details of people and places: the university with the pre-ruined Greek temple; the bohemian girl students with "their black stockings and black turtleneck sweaters and black boyfriends"; the suburban women "as plump and ponderous as Clydesdale mares". Everyone and everything gets a virtuoso paragraph. That includes Paul the painter's genitals ...
The swoops and switches of viewpoint are effortlessly managed (i.e, they reflect decades of work). There's a tough, touching tenderness for city and the city-dwellers. The narrative processes to separation followed by reconciliation, and compromise followed by contentment. Not a bad way of ending at all.
David Hill is a Taranaki writer.