Victoria Spicer lets us in on her ultra-stylish world.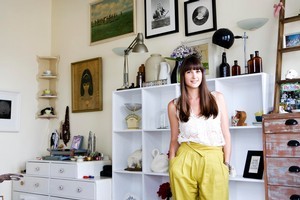 With a background in fine arts and experience in wardrobe and art-finishing for film and television, Victoria Spicer is in charge of the art department at independent Auckland-based advertising agency Running with Scissors. She received a silver at the 2011 Best Awards for the spatial design of the Running with Scissors office, and next month will speak at the Best of the Best Designer Speak Series. Spicer also works as a stylist and personal shopper, having worked on music videos, food shots and a short film. She tells us more about her intelligent approach to style.
I love fashion because ... It is broad and encompasses more than just clothing. There are plenty of choices you can make. For me it is a natural way to express myself.
My earliest fashion memory ... Red tartan dungarees.
The NZ fashion designers that I respect the most are ... Miss Crabb for the personality of her pieces which are fun, yet have undertones of maturity, and for the generosity she extends to emerging designers.
Ingrid Starnes for her feminine pieces, attention to fine detail and for designing gorgeous high-waisted silk underwear. And Emily Miller-Sharma, designer of Liam, for the extramural activities and research she incorporates into her collections. They are wonderful, lovely, talented women who I love supporting.
The most treasured item in my wardrobe ... Pants from Mon Amour, a Parisian vintage store in the Marais. The shop owner is a red-lipped French babe, and as we chatted I discovered she had recently played with Connan Mockasin when he was in France.
My most recent fashion purchase ... A pleated number from [Grey Lynn store] Sergeant Pretty and a Miss Crabb jumpsuit.
My latest discovery ... I've recently taken great pleasure in making my own mozzarella and have been educated in the amazing properties of coconut butter (when eaten).
Chain stores: love or hate? I'm not opposed to chain stores. In New Zealand they often lack a bit of personality but you can pick up an affordable gem once in a while.
I collect ... Fine art, bric-a-brac, objects and curio. My house is my display cabinet. I have a long list of artists whose work I would like to own some day but you know... the recession.
I'm at my happiest when ... My morning run is complete.
My comfort food is ... Coffee, every morning please. And avocado on toast.
In terms of style and design, I'm inspired by ... My friends. They are a talented and inspirational troupe: writing books, building apartments, designing buildings, interiors, clothes, furniture, images, creating art, directing films, making and promoting music, taking photographs and making glorious food.
My approach to beauty ... Look after what you have, but don't become desperate when nature takes over. Do what makes you feel confident, don't sleep in makeup and I'm partial to smearing my face with Bio Oil before bed.
In my address book ... The Avondale markets, Coco's Cantina, Cordy's, Golden Dawn, Kings Plant Barn, Flotsam and Jetsam, antique markets.