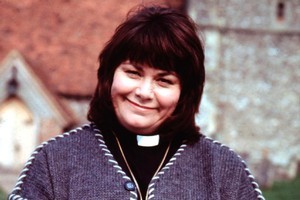 You would expect that losing an astonishing 47 kilograms would be a load off Dawn French's mind as well as her body.
Yet the 55-year-old star has confessed she is not entirely happy about her slimline shape.
Miss French, who was 121kgs before she cut out chocolate and carbohydrates, pointed out that losing her "lovely blubber" made it difficult to swim in the sea because it is too cold.
And in a frank interview, she added: "I had great fondness for that other body. I knew it very well and I don't know this one as well, not yet.
"I was never actually unhappy then so it's not the case that I was miserable and I'm happy now."
Miss French, who appears with Alfred Molina in the BBC sitcom Roger And Val Have Just Got In, added: 'When we filmed the series, I'd lost about 4st but I've lost 7st 7lb now. I don't want to lose much more but it's funny looking at Roger & Val - because I look so different now.'
The actress strongly denies that her weight loss was the result of a gastric band plus the stress of her divorce from Lenny Henry. She said: "I don't eat bread, potatoes or pasta now. I don't have chocolate in my house. That is really hard."
Miss French previously insisted that she could not watch TV without chocolate. And she once declared: "As far as I'm concerned there are two types of women, the ones who like chocolate and complete bitches."
- DAILY MAIL