Emerging playwright Victoria Schmidt shares a few of her favourite places in her suburb with Rebecca Kamm.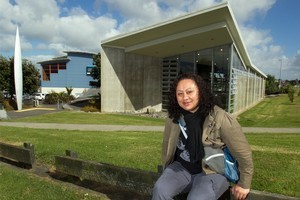 I like living in Manurewa because it's where I grew up; I've created a lot of memories here and I've enjoy seeing the suburb change over the years.
All up, I've lived here since 1988, so that's 24 years. My family moved to Manurewa from Otara - the street life in Otara wasn't so positive at the time and my parents thought it'd be best for us to move on. I remember that a lot of families at that time were moving to Manurewa because they felt it was a nice area, and safer.
When I look back now, Manurewa has changed a lot. The environment, the quality of the surroundings, all of those things.
I'm a bargain shopper so I buy things from The Warehouse, Kmart - you name it. You can get the same looking clothes that you see in expensive stores for half the price. Countdown Airport is my favourite supermarket because the service is excellent and it's open 24 hours a day. Farmers in nearby Manukau is great; there's a good variety of clothes for all seasons.
Brandy's Roast in the Clendon Town Centre is a favourite; the staff are friendly and they always remember their regular customers.
I like bush walking and the training circuit at Totara Park, especially in summer. It's fun to shoot hoops on Palmers Rd in Clendon, or just take a good walk around the block. You see kids playing on the lawn, music blasting from a house - people just being people going about their everyday lives.
Watching those things while you're enjoying a nice walk makes you realise how precious life is. They're simple pleasures, I'd say.
A spot I really like is the lookout at Totara Heights. You get to see the whole of South Auckland at night, which fascinates me because it looks different when you're up close and doing your thing. This way, you get to observe the glory of the place as a whole just by standing on a hill. Both ways of seeing South Auckland are beautiful.
People coming to Manurewa should visit Nathan Homestead, Manurewa's community arts centre which is situated in an historic homestead. It was built in 1925 and has been kept in its original state, so offers a history of the suburb.
They run little courses for kids in craft, theatre and music, and offer some pretty good school holiday programmes too. It also played a part in my introduction to acting and theatre, which I'm actively involved in while working a regular day job.
Victoria's picks
* Brandy's Roast - G4/459 Roscommon Rd, ph (09) 268 1285
* Nathan Homestead - 70 Hill Rd, ph (09) 267 0180.
* Totara Park - 90 Wairere Rd
* Te Matariki Clendon Community Centre - Palmers Rd, ph (09) 269 0500
* Music and Me, a new work by Manurewa-based emerging playwright Victoria Schmidt, will show at the Mangere Arts Centre Nga Tohu o Uenuku from February 14-18. Ph (09) 262 5789.