Hair colourist and jewellery designer Donielle Brooke takes her fashion inspiration from the stylish people around her.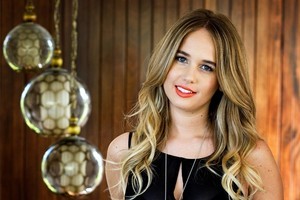 Donielle Brooke launched jewellery label Eyes of Common in 2010 with Aidan Bartlett, drawing inspiration from "love and heartache, bikers, tattoos and the 80s". For her own style, the designer, who is also a senior colourist at Stephen Marr Takapuna, is inspired by everything from her mother's wardrobe to stylish colleagues, to New Zealand fashion.
My mum has always had the most amazing wardrobe, because at 17 she started modelling and did so for years. She had a massive wardrobe and as a young girl it felt almost magical sneaking into her room and going through her stuff. Sometimes I would hope it would turn into The Lion, The Witch and The Wardrobe and I'd go through to Narnia.
I have claimed two items from Mum's wardrobe. One was bought from Workshop about 20 years ago, when it was called Street Life; a mustard-green long pleated skirt. I love it. The other was a top called a "choirboy" shirt years ago - plain with buttons down the back, and crochet floral at the front. Mum borrowed it off her mother's friend when she was at college and never gave it back. Now it's all mine and still looks brand new.
But I think my most treasured item is my Zambesi bustier that I wore to my 21st three years ago - it's amazing and I'll never fall out of love with it.
I'm always in the heart of fashion as I work at Stephen Marr at The Department Store. Every day I'm inspired by the people I work with and the clients I spend hours with colouring and cutting their hair. Everyone always looks amazing. When I'm thinking of creating a new piece of jewellery, sometimes I will think of a friend's look and picture the perfect piece for them.
If I could have anyone's wardrobe, I'd probably say Tash from The Department Store. She not only has the most amazing Miss Crabb collection but she has so many beautiful vintage and other cute pieces. Her room is set up like a little shop - all her glasses are in a line, her jewellery in a glory box and clothes kept in an old 1960s wardrobe. She actually inspired and helped me when I was in the middle of designing our dreamcatcher necklace.
My approach to beauty is effortless, natural and to always have self-respect.
My dress sense changed when my surroundings did. When I was in primary school, my best friend was a boy, Sean, so I pretty much wanted to be one. As I got older and realised I needed to look like a girl - to have a boyfriend! I went through a very awkward stage. I have photos of big skater shoes, board shorts and a girly top; not a good look. When I got to college I was obsessed with a beachy look - tight jeans, Vans and a Von-Zipper top was a favourite.
Finally I started hairdressing in Ponsonby; I was around the most beautifully dressed people, my work was full of them. My heart has a soft spot for the alternative look with tattoos all up the arms and a short cute cut but it's just not me, even though I was a tomboy.
Now I am a flower child, with long, curly hair.
In my address book ... I love many places in Auckland - I recently went to the museum, and had forgotten how cool it was! Other places I like are Paper Moon (always nice food), and Golden Dawn bar in Ponsonby.