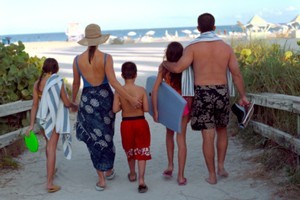 Since having a third baby, I am frequently asked by friends with two - somewhat mischievously - what it's like.

I understand why parents of three are asked for their first-hand accounts, because the official line differs. Some say the third fits right in; that by necessity, it has to be laid back about life. Others (anonymously, usually) admit the third was the straw that almost broke the camel's back.

In my circle of acquaintances I have noticed a couple of marriages end after the third child is born. Although obviously none of us outside the couple in question know the reason, it's probably not unreasonable to think that the strain of looking after three little people might have played a part.

I think that a third baby, regardless of the situation, probably is a cruisy kid simply because there is so much less parental attention to be had. But I can not understand those parents who claim the third baby has had little impact, if any. At the very least, from my experience anyhow, the 'donkey work' involved with child-rearing - cooking, cleaning, freight and logistics - increase exponentially. If parents were not heavily involved in the general drudgery-side of child raising with two then sure, they probably won't notice the difference.

But if they're at the coal face, they're in for a rude awakening!

This was brought home to me several times during the school holidays, when I have had three young children to care for day-in and day-out and really noticed how a baby changes the dynamic.
Essentially, and probably obviously, it means that the time you spend completely without children is radically reduced. Every time you put your feet up for a few seconds, a baby starts to wail, a preschooler wants help with toileting and a five-year-old is somewhere trying to sneak onto the computer to play zombie games.

Night time can be more daunting still. I can think if of two nights over this 'holiday' when I was up every hour through the night - two or three times for the baby, two or three times for an ailing three-year-old, and once for a five-year-old who has a habit of falling out of his bed.

That can be up to eight wakings in one night, which I opt to do because I am at home and not having to schlep off to work the next day. But the following day can be tough. It starts with bleary-eyed mother (me) getting up to the children, before waking bleary-eyed father up at 8am and handing him the child-rearing baton, before returning to bed for a single, precious, delicious hour. When we are both up it's a constant process of handing children back and forth - he's got the oldest and I take the two youngest, or he's got the boys and I'm taking the three-year-old wannabe princess for ballet sign-up, or he's got the baby while I bath the other two - it's a non stop backwards-and-forwards.

Basically as soon as you have your clean underwear on for the day, you're fair game for child-minding. If you are upright, you can - and will - be passed a warm young body (or three).

Now, before people are tempted to write in stating the obvious, yes, I understand that I chose to have three children and it's my job to make it work. Believe me, I am working hard at making it work. Luckily for the whole family, the third little man is gorgeous, smiley, and pretty chilled out (no colic as yet, or much crying at all really that can't be soothed away).

But what I would say is that while having any young children is a much sweeter experience with help, having three is very consuming without help. If you have great relatives/friends close by or you can afford to hire an extra pair of hands, you are very fortunate and could probably make three seem very easy. But if you are like many of us, living away from our parents and siblings and not quite flush enough to hire that fantastic Swedish au pair or full-time nanny, there will be no hiding those dark circles under your eyes and unkempt hair - at least for a substantial amount of time in the early years.