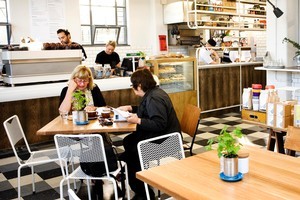 New arrival
The gracious old Grey Lynn Post Office is now home to the fabulous new Kokako Cafe & Roastery. Owner Mike Murphy and his team have been busily renovating and every effort has been made to source organic and local produce and ingredients with some astounding results - they've even found some local Grey Lynn honey. Open from 7am weekdays, 8am Saturdays.
From scratch
Home Made by Yvette Van Boven
$59.99; Allen & Unwin
Yvette Van Boven knows what she's talking about when it comes to food. The author and food stylist owns the successful On the Amstel lunch restaurant and catering company in Amsterdam and her recipes are practical and easy to follow. She achieves what so many other cookbook authors promise to do yet fail to deliver on - she makes preparing your own food from scratch simple and achievable.
Two of the best chapters in this book are the ones that demystify some of the cooking methods that are so fashionable right now - making your own icecream and smoking your own food.
What's great is that once Van Boven has described, step-by-step, how to successfully achieve these various culinary techniques she follows up immediately with a recipe that turns it into a meal.
What to do with all those cucumbers? Make hot cucumber soup with deep-fried parsley of course. This is a wonderful variation on other chilled cucumber soups and tastes creamy and delicious.
Shore thing
Opening just before Christmas, Shore Rd Cafe has been flat out ever since. No wonder with consummate cafe professional Tim Tohill, previously of Benediction and Jaffa cafes, at the helm. The cabinet food is exceptional, the coffee expertly extracted and we can highly recommend the nicoise salad with its slabs of perfectly seared tuna. Open weekdays from 7am, weekends from 8am. 13 Shore Rd, Remuera, ph (09) 522 2783.
Check it out
In my book you can't go past a decent Eton Mess as the perfect summery dessert - smashed meringue, berries and freshly whipped cream all mixed together to form a cloud of deliciousness. For two of the best, visit:
* Ponsonby Rd Bistro, 165 Ponsonby Rd, ph (09) 360 1611.
* District Dining 46 Custom St East, Britomart, ph (09) 368 5315.
Lip smacking
We might be a bit biased but we reckon some of the best fish 'n' chips to be had at a beach this summer are coming out of a small, container-based operation at Port Waikato. CeCe's set up shop at the Holiday Park in December last year and have been turning out sensational crispy battered gurnard fillets and golden hot Agria chips all summer long. Eat them as you watch another beautiful West Coast sunset. CeCe's, Holiday Park, Maunsell Rd, Port Waikato.
Sister act
The wonderful sisters who gave us Stella restaurant and bar all those years ago are re-united once again. Chef Rebecca (Beki) Lamb has finally made the move, from Ella Cafe, down the road to join her sister, Esther Lamb at her charming bistro, Sunday Painters. Beki's food has always been a standout in the Ponsonby Rd dining scene so we're excited to see what she'll add to this already fabulous local eatery. Sunday Painters, ph (09) 360 2001.