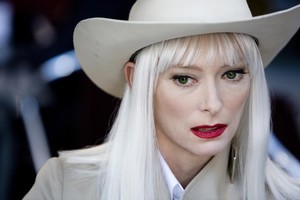 Tilda Swinton has a "Cinderella complex" when it comes to dressing.
The actress is famed for her unconventional red carpet attire. Swinton admits to putting minimal effort into creating her signature style.
"For me, it's just a matter of having a box cutter to open the [dress] box," she admitted in an interview with People magazine.
"I turn up in a pair of old corduroy trousers, and I'm very fortunate to have friends who send me boxes [with gowns]. It's like the Cinderella complex. It's the friends that make the effort, not me."
Swinton likes dressing androgynously - and regularly graces the red carpet in a number of tailored couture suits.
The 51-year-old star loves her understated approach to dressing for prestigious events.
"There is a little effort that goes into the planning, like, weeks ago but at this stage, it's only a matter of opening the box," she added.
Swinton has previously spoken about stylists. She doesn't understand why Hollywood stars have their own personal people to dress them.
"You mean there's somebody in your hotel room who actually takes your clothes out of a suitcase and lays them out for you," she mused in an interview.
"Really? Or is that just a fantasy. There is nobody in my suitcase, but myself, I can tell you that."
What do you think of Tilda Swinton's style?
- AAP