We're spoiled for choice these days, writes Don Kavanagh.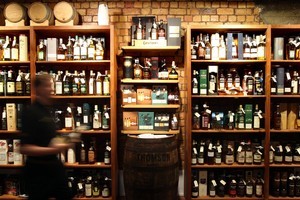 It's amazing how quickly some things change. Remember when the weekly shop meant stopping in just two places? The supermarket was where you got your food and then you might stop at a convenient liquor store.
It all seems very strange now that we can get our wine and beer when we buy the milk and bread, and I suppose there are plenty of people out there who don't remember any other way of doing things.
The humble bottlestore was once a fixture and even small towns usually had a few.
These days it pays to specialise. And it pays to shop with specialists.
For all the cheapness of supermarket wine selections, there is a drab and depressing sameness about them, with the same labels on a constant merry-go-round of discounts and promotions.
A specialist wine shop will introduce you to wine labels and styles you may never have heard of.
Specialist stores also tend to have better-informed staff and in many cases can offer just as good a deal as supermarkets.
Outlets such as Caro's, the Wine Vault and Glengarrys offer far more than a supermarket ever could and they have the advantage of being able to stock any wine they like rather than a core range chosen by someone at head office.
The same goes for beer and it is here that the old-fashioned bottlestore has an edge.
Although the beer selection at the Victoria Park New World is outstanding, it is also the exception for supermarkets.
Meanwhile, the likes of, say, Liquorland in Newmarket, have an enviable range of craft beers and it's always nice to support the little guys.
When it comes to spirits, we're spoiled a little here in Auckland, with two specialist whisky shops.
The original one at Elliott Stables has moved to the old Kapiti shop in the Stables, where there is much more space for an expanded range of whisky. It has also allowed them to expand into other spirits, with a fascinating collection of rums on the shelves alongside interesting vodkas and gins.
There are always a few tasting bottles open and it's perfectly possible to spend more than hour in the shop at a time, even if you just nip in for a quick visit.
The other whisky shop in the Chancery area is also worth visiting.
Both shops specialise in slightly different areas, so they complement each other well.
Specialist shops are so much more than simply places to stock up.
They are to shopping what great bars are to drinking - you don't have to go in one to drink, but they make the experience so much more satisfying.