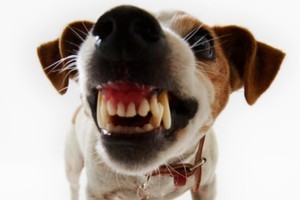 Here's one way to reduce dog attacks on kids: put those who want a pooch through a competency test - much like a driving test - before they are allowed to own one.
It would have to be a complex and tough test in order for it to weed out those who can't be trusted to take care of a dog - and, as the dog control act says, "make sure your dog does not scare or injure any one".
It also needs to identify those who become so besotted with their beloved canine that they forget dogs can be dangerous.
Honestly, it's as if some dog owners refuse to believe that their adorable little mutt could bite anyone.
Take it from me - because a few years ago I was rushed at and nipped by a kelpie - dogs are temperamental. And it doesn't matter if it's a puff ball Pekingese and a timid little Chihuahua, or a notorious pitbull and American bulldog, you can't trust dogs.
This week alone there have been three serious attacks on children.
Don't get me wrong, I love dogs. They are my favourite animals - and we had four of them when I was growing up. They are my four-year-old daughter Mia's favourite animals too. She is so passionate about dogs one of her play-acting games is being a Chihuahua. She would love a dog, and one day we look forward to getting her one.
Because of this deep love for her four legged friends, she used to show no fear and would rush up to any dog that she came across. So over time, we've had to make it very clear to her that not all dogs are nice and sometimes they get angry and bite.
Thankfully, the message got through. These days, when Mia sees a dog she always asks the owner if she can pat it. And she is calm - and even a little wary too - when she approaches them, and lets them sniff her hand before she pats them under their chins.
I agree with the New Zealand Kennel Club that believe parents need a better understanding of canine behaviour so they can educate their children of dog dangers. Until that happens, they say, dog attacks are inevitable.
But also, on a more basic level, supervision of kids around dogs is key too.
No matter how well I know the dog Mia is playing with I still keep watch over her. Paranoid? Over protective? Not at all, because I would never forgive myself if she had a chunk of her cheek or arm bitten off (and the owner of the dog would never forgive themselves either).
And yes, I know a dog owner competence test is a radical, and somewhat impractical approach to stopping the ongoing problem of dog attacks, but something needs to happen doggone it. On this issue you can't just let sleeping dogs lie.
- HERALD ONLINE