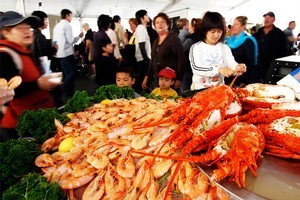 Seafood festival
The catch of the weekend has got to be Auckland's Seafood Festival 2012 which takes over Wynyard Quarter this weekend with stalls featuring the finest of our ocean bounty. Our picks? The Electrolux Restaurant Alley where eateries Dine, Sails, Kermadec and more will be offering a selection of mouthwatering seafood menus - think seared tuna with nori puree from dine or Spanish seafood salad from Kermadec. Or keep it simple and casual with a visit to the G.H. Mumm Champagne & Oyster Marquee, a jaunt down Scampi St for some grilled scampi or visit to Mussel Mania, the mussel and beer bar. Sounds like a fabulous way to spend a summer afternoon.
From Saturday January 28 to Monday January 30.
One to watch
New Zealander chef Anna Hansen, of Modern Pantry cafe and restaurant in London, has just been awarded an MBE in recognition of her services to the restaurant industry and her culinary genius.
When we spoke to her this week she was still reeling from the shock of receiving such an honour. "I still can't quite believe it. When I received the letter of notification, I remember running into the kitchen of the Modern Pantry and telling all the staff 'I've won an MBE, I've won an MBE' before dashing back to the office where, on reading the letter properly, I saw that the news was to be treated with the strictest of confidence. So I ran back to the kitchen announcing 'I didn't get an MBE, I didn't get an MBE' and swore all staff to secrecy for fear of having it confiscated before I'd even got it!" But now she's allowed to tell people and is proud to do so.
"To be honest, I'm overwhelmed with the honour and I'm just so pleased that our hard work has not gone unnoticed. It's fabulous that not only the Michelin-starred establishments get recognition." We asked for her predictions for the year ahead. "Healthier comfort food, more casual-style dining where diners are happy to move from one place to another for different courses within a single night and menus that are reasonably priced." We believe her. After all, she has an MBE.