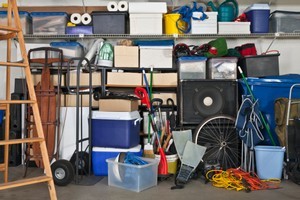 When it comes to possessions I like to think I'm a minimalist and I've slowly realised that this makes me something of an oddity in this mass-marketed consumer-driven world.
Don't get me wrong; I can be as materialistic as anyone when it comes to objects I use every day but I tend to eschew anything that would get only the occasional airing.
Let me explain. I don't own a toasted sandwich maker; I use my Jamie Oliver non-stick frying-pan instead. I don't have a food processor; rather I chop with knives and mix with wooden spoons. To be honest, a certain aversion to housework also drives this choice. Most kitchen appliances strike me as being awkward objects to clean and furthermore, inveterate dust-gatherers as they await their next outing.
I don't have an electric fry-pan, a slow cooker, milkshake machine, rice cooker, bread-maker, waffle maker, bench-top mini oven or George Foreman grill. And, although I secretly covet their gleaming industrial good looks, I eschew coffee machines too.
We don't drink the stuff; Bell teabags supply us with our caffeine hits. Neither do I have a refrigerator that dispenses chilled water; I guess I'll consider buying one when we are no longer capable of prising ice-cubes from plastic trays and running the kitchen tap.
In March last year my eight-year-old grew too tall for her hand-me-down Pumpkin Patch jeans and I didn't get around to buying her a new pair for about six months. She wears a uniform to school and for a while it seemed that her civilian wardrobe consisted only of a party frock, tracksuit, a few tee-shirts and a pair of jodphurs.
Shopping expeditions are just low on our list of priorities. Plus we seem to make things last. My favourite hooded sweatshirt has a star motif and was purchased from Glassons in Christchurch circa 2002. Good as new. One careful lady owner.
I don't have a linen cupboard. All the towels we possess are hanging in the bathroom and all sheets are on the beds. They get washed, dried and immediately put back where they belong. They definitely don't get ironed, folded and stacked in a cupboard for future use. I must confess that an innate laziness on my part has a hand in this habit. By not having a linen cupboard I'm cannily avoiding some needless double-handling on the domestic front.
We don't subscribe to SKY TV, having got rid of it about eight years ago when I realised I'd watched it precisely three times - when the Princess of Wales' car crashed, when John F Kennedy Jr's plane went missing and when terrorists attacked the US in September 2001 - since its introduction. We don't have a PlayStation, Nintendo or Xbox. I can think of hundreds of activities more worthwhile than playing video games.
And although a Wii promotes movement, we won't be getting one of those either. Our cosy TV room wasn't designed for exercising in and I definitely don't want anyone's sweat on my hand-woven Iranian rug.
In 2001 my NZ Herald article We're going bananas, or we're out of our trees explored our penchant for acquiring items that have just one, often seasonal, use. Asparagus steamers, apple slicers, avocado choppers, bean slicers, cheese cutters, cherry pitters, egg slicers, garlic presses, ginger graters, kiwifruit spoons, lettuce spinners, lime presses, oil pots, olive stoners, oyster forks, peach stoners, pineapple slicers, pizza cutters and strawberry hullers are among the objects whose jobs are far too specialised to earn a space in my kitchen.
In that same piece I also questioned the worth of anti-drip wine-bottle fittings, element covers and paper towel dispensers. My personal favourite worse-than-useless object though is the spoon rest upon which one puts dirty spoons so your bench-top stays clean. Then instead of simply needing to wipe your bench-top you'll need to wash, dry and put away the spoon rest too.
So something that masquerades as a labour-saving device is in fact a source of more housework than it's purporting to reduce. Has a more inconvenient object ever been invented? Does anyone actually own one? Please do tell.
- HERALD ONLINE