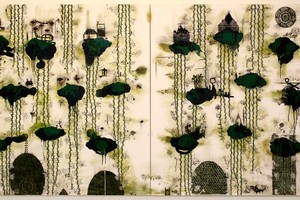 Retrospective shows the continual evolution of multi-talented artist
John Pule has long been established as a significant figure in New Zealand art and this exhibition, at the Auckland Art Gallery, is a reflection of his stature. Organised by the City Gallery in Wellington and housed in the Auckland gallery's spacious top floor, it shows to great advantage.
Pule was a poet before he was a painter, although as a young boy - born in Niue but living in a state house in Auckland - he won an art award. Significantly, his winning drawing was of a clash, a car accident, lots of red blood and an ambulance.
The boy grew up through school, expulsion, borstal and work at an abattoir, where he graduated to a slaughterman. A vision of other possibilities led him to Grey Lynn and the camaraderie of poets, painters and commentators that gave intellectual life and vigorous liberal energy to that suburb over several decades.
A monumental mural on the junction of Williamson Ave and Great North Rd remains as a tribute to those years. It is typical of Pule that it is large, yet detailed and tightly patterned.
Many of the large paintings in the show are similarly tightly organised around a grid. The early works are influenced by the traditional patterns of haipo - the bark cloth traditionally painted in Niue. Although Pule's earlier paintings share the colour of the haipo - burnt umber, burnt sienna and black, and bear a superficial resemblance - the work is fundamentally different from the decorative traditional work. They are full of images of dreams and personal mythology, as well as European line drawings, demonic lizards, sharks, the Cross and the gods that move in the tops of trees.
These works embody what fellow poet Gregory O'Brien has called the "complexities of identity". Pule is moving like a poet, from image to image, to create something that conveys the tensions and intricacies of his own mind, including what bubbles up from the subconscious. This makes the paintings difficult to read; as difficult as it is to really get to know anyone.
The works have an impressive presence at a distance, but they also demand close attention to their detail, which is often quite small. A work like Mamakava has a symbol in the centre which shows light and dark, yin and yang. This is surrounded by thrusting patterns that push back and forth. Further out are grid patterns with images of natural gods, as well as line drawings of lonely, disregarded people under the sun in the top corners. These contrast with fierce nature gods in the bottom corners. A variety of other spirits occupy the rest of the border.
The best way to make a transition between these early big paintings and the later (and much larger paintings) that are a complete change away from the haipo influence is to examine the lithographs and drawings; notably the series called Restless Spirit which takes passages from Pule's novel, The Shark that Ate the Sun.
The autobiographical passages are illuminated in the margins by drawings which, in the same way as the paintings, contain fine lines and big emotional dashes of black which is here combined with vivid red. The wet ink of the original has often been swept across the page in flourishes of energy. The blurring is like the sweep of a storm. Another such series done in ink on paper is Burn my Head in Heaven. Passage graphically describes a tattooing ceremony and the illustration suggests the influence of Polynesian tattoo on the imagery of the paintings.
The next step for Pule was to broaden the use of colour in his paintings. This was done by breaking up the grid; painting isolated islands of thick pigment that dripped and ran down the canvas. In Dazzling, these islands are like red-hot patches of emotion and they suggest many things: clouds, individuals, archipelagoes and states of mind.
Alongside this work is a similar painting called Another Green World, which has a more benign feeling. These islands of pigment are connected by trailing vines - vertical lines of twining leafage that suggest interlinks and growth. The effect is like some Victorian wallpapers, except that the patterns of verticals are more irregular.
On each of the thickly painted areas are small, drawn images, often of lots of people gathering in worship or an intense struggle such as carrying an idol up a hill. They are mixed with ancient mythological demons and emblems that seem based on a tattoo, like an image of a compass, a symbol of a navigational aid. This recurring image is both decorative and indicative of choices of direction - indicators that point to all places. There are lots of incidents of intense sexuality alongside images of lamentation over dead gods. The expression of individual emotion has become more general.
A recent work, Arrival, done in 2009, combines varnish, oil, enamel, ink and resin on its canvas. There are tight abstract patterns, looping and dancing demons of the imagination, delicate twists and turns, the Cross, and the inevitable embrace. The enamel and resin come into play in contrasting areas of light and dark done in waves of thick pigment. The "arrival" is where the dark meets the light. The dark is populated by the sailing ships of colonial arrival and the light is complicated by conflicts, war and the destruction of old idols, all done in delicate tracery of line. It is not so much anti-colonial, but rather about a confusion of beliefs.
The whole exhibition shows that the art of John Pule has been in continual evolution. He has achieved recognition here and abroad, and this is a mighty exhibition. It is, in the poet artist's own words, "about things sometimes obnoxious, but always Oceanic, always, in spite of conflicts, very Polynesian".
At the galleries
What: Hauaga: The Art of John Pule
Where and when: Auckland Art Gallery Toi o Tamaki, Kitchener St, to March 23