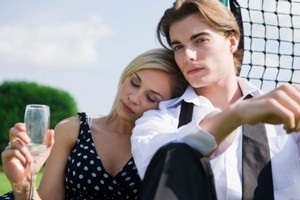 Going to Stanley Street to watch the tennis in the January sunshine is a great day out in Auckland. Over the years I've been lucky enough to enjoy hospitality in a number of corporate boxes and in 2004 we shouted ourselves a box - in a neck-straining location right behind the umpire - to see Pat Cash play John McEnroe in an exhibition match.
The other matches all blur into one another to a degree but I know I saw Nadal before he was famous, Del Potro, Norman, Chang, Kuerten, someone nicknamed the Red Hot Chilean and I've also seen a really tall guy play doubles with a shorter guy.
As you can probably tell, I'm not always concentrating fully on the tennis. Sometimes I'm sipping my drink, perusing the menu, trying to see if there's anyone I know in neighbouring boxes, applying my lip-gloss and generally soaking up the fabulous ambiance of it all.
I'm also contemplating the gross unfairness of the seating plan. The corporate-box-holders and their guests (who may or may not give a hoot about tennis) are ensconced in the courtside equivalent of a first-class cabin with great service, fine food and wine while the hardcore tennis fans, crammed into stadium-style seating, are consigned to the no-frills economy section.
It all has such a cosmopolitan feel. For a few hours it's as if you could be anywhere in the world rather than stranded on a remote island in the middle of the Pacific. The beautiful people, the floppy hats, the expensive frocks, the cocktails, the cute little ball you reposition every time you require service ... oh and there's some world-class tennis on show too.
But that international flavour is illusory because enjoying refreshments courtside in this manner doesn't seem to be a widespread phenomenon. I've attended the Australian Open and the French Open, and, as far as I could tell, the seating in Melbourne and at Roland Garros possessed a depressing egalitarianism.
So I've come to realise that these courtside corporate boxes in the intimate and leafy setting of the ASB Tennis Centre are without equal. Geographically we may be at the end of the world but gosh we know how to live well at the tennis. To be able to eat, drink and be merry right beside the action is privileged indeed.
And that's why I was horrified to learn of bad behaviour at the Heineken Open last week. In Game, set, dispatch for boozed tennis spectators there were reports of drunkenness, rowdiness and bad language. Many of us may have enjoyed ourselves a bit too much at the tennis but we've always remembered to whisper, switch off mobile phones and generally not disturb the players. It's just entertainment for us but it's deadly serious for the professional sportspeople involved. A little respect and courtesy go a long way.
Let's hope the repercussions of these recent antics by a minority of misguided folk are not too severe. But after such undignified displays who could blame the players or organisers for lobbying to stem the problem at its source and remove the corporate boxes? My message to those "drunken corporate guests" is simple: take your hooliganism elsewhere next summer and stop ruining the fun for the rest of us.
- HERALD ONLINE