Don Kavanagh assesses a 'new' range of brews from the Mac's brand.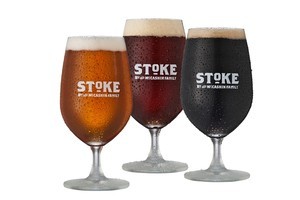 It's been a while between drinks for the McCashin family. Once a beacon of craft-brewing excellence in a sea of nondescript draught beers, the Mac's brand was sold to Lion at the start of the decade and most people would have been surprised to see the family dive into the brewing vats once more with the Stoke range that came out a few years back.
That range was something of a curate's egg, initially - good in parts. The Gold was nice, the Dark was nicer and the Amber was a touch nondescript. However, time has been good to Stoke and the addition of new variants has boosted its stocks considerably.
The first addition is the 2-Stoke, a lower-alcohol lager (at 2 per cent) that is surprisingly good, although perhaps not all that surprising when you remember the old Mac's Blue, a 1 per cent lager that went down very well indeed in the old days.
The new Stoke lager is smooth and rewarding and the India Pale Ale (IPA), made with a medley of local and foreign hops is an eye-catcher, too, with a nice hefty dollop of malt on the palate to balance out the hop bitterness.
But it's the Stoke Bomber series that really piqued my interest.
These beers, all in 650ml bottles, prove that the old qualities of Mac's beers are alive and well. The Kiwi Pale Ale is like an IPA, except it only uses Kiwi hops and it's a genuine contender for new beer of the year. Subtle malt and mouth-watering hop characters give it some real punch.
The Smoky Ale is another beauty, infused with beechwood smoke to give a pleasant tang to the amber ale. It's big, strong and surprisingly sessionable for a big beer.
The pick of the bunch for me, though, is the Oatmeal Stout. Not bitter like the dry, Irish stouts, this is a broad, lush beer, packed with coffee and chocolate flavours, but not overpowered by them. The stout is well balanced and cries out for another to follow it.
The Bomber range is a genuine craft beer selection and I hope it is a sign of things to come from the McCashins. They have a great and proud history behind them and it looks like they are creating a great future as well.