We have a lot riding on the nation's favourite grape.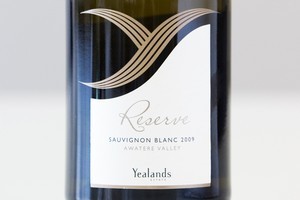 The New Year chimed in with the ring of empty sauvignon blanc bottles hitting recycling bins across the country. Our flagship grape remains a favourite with local wine drinkers, but the domination by this single variety of both our vineyards and export markets - in a way witnessed in no other major winemaking nation - means there's an awful lot riding on this one grape: something the industry is increasingly mindful of as it puts its recent oversupply issues behind it and enters a new year and a new era.
Sauvignon blanc accounted for 69 per cent of New Zealand's grape harvest in 2011 and a staggering 84 per cent of its wine exports.
"This puts us in quite a precarious situation," says Jim Robertson of the country's largest sauvignon blanc producer, Pernod Ricard NZ (PRNZ). "We're very focused on one product, but all our eggs are in one basket."
Robertson was speaking to a group of local and international journalists gathered by the company late last year to debate the future of New Zealand's ubiquitous and supremely important variety and update us on what the group behind the Brancott Estate label (previously Montana) is doing to future-proof its production.
Looking at the parochial selection of sauvignons we see in our shops, you'd be forgiven for thinking that New Zealand was the only place that produces the stuff. But as well as the benchmark examples from the French heartlands of the Loire and Bordeaux, there's a growing threat from fellow New World winemaking nations, many of which boast lower production costs that comfortably allow them to undercut our sauvignons in price.
Chile in particular could prove major competition. Once held back by the fact that much of its sauvignon blanc was actually the lesser sauvignon vert variety with plantings in unsuitable regions, the spread of true sauvignon blanc to Chile's cooler coastal regions has seen quality skyrocket.
Australia, which has been lapping up our examples to the detriment of their own wine sales, has also started to retaliate. Though largely too warm to make exciting sauvignon, Australia's McGuigan Wines has seen considerable success with its newly released and competitively priced "The Semillon Blanc". This takes its stylistic and descriptive cues from Kiwi sauvignon blanc and could have created an Aussie category capable of stealing some of our sauvignons' market share.
Though sauvignon blanc may be hugely popular with the world's wine drinkers, whether they really care where it comes from was a point raised at the PRNZ debate. Certainly at the cheaper end of the market, where New Zealand sauvignon started to seep in its time of surplus, price-sensitive drinkers are notoriously fickle.
The premium and higher-priced positioning of our distinctive examples has historically driven their strong international performance, and is something industry leaders would like to see continue. This has led to initiatives such as the industry's current sauvignon blanc research programme and PRNZ's own in-house investigations.
"For us, to really understand this grape variety and to continue to explore its many presentations sets us in good stead for the challenges that may come forward in the future," says Robertson. The findings of these studies into what makes our sauvignons so special is now being applied by PRNZ in its icon sauvignon project, which it hopes will take its own examples to the next level, combining classic Marlborough characters with the seriousness and longevity of France's greatest sauvignons.
Diversification was another path discussed: from innovations such as the sparkling sauvignon blanc that has exploded on to the wine scene to the exploration of new grape varieties, such as sauvignon gris, which PRNZ is particularly excited about.
It's encouraging to see these debates talking place and initiatives starting to bear fruit, which should hopefully ensure more empty bottles of high quality and sustainably priced New Zealand sauvignon blanc around the world in the years to come.
SUPER SAVS
MARLBOROUGH CLASSIC
Brancott Estate Letter Series 'B' Marlborough Sauvignon Blanc 2011 $36.99
Pending the release of its icon sauvignon from the 2010 vintage, this is PRNZ's top sauvignon blanc. It's a powerful example, fusing flint and spice with ripe tropical fruit and punchy grapefruit. (Available widely through liquor retailers.)
FRENCH INFLUENCE
Alluviale Blanc Mangatahi Hawkes Bay 2010 $26
Semillon is the classic accompaniment to sauvignon in the dry whites of Bordeaux, a touch of which Alluviale's David Ramonteu adds to his for "interest and complexity". With its gala melon fruit infused with notes of cut grass and honeysuckle and intense line of lemon and river stones, it's an approach that certainly works in this wine. (From Wine Vault, Caro's, Point Wines.)
OAK-AGED
Yealands Reserve Awatere Valley Sauvignon Blanc 2009 $29.95
Though most mainstream sauvignon is made in inert steel vats, this exciting Awatere example has seen a portion fermented in oak. The result is a wine with considerable weight and richness, with notes of asparagus, smoke and lime leading to a long minerally finish. (Ph (03) 575 7618.)