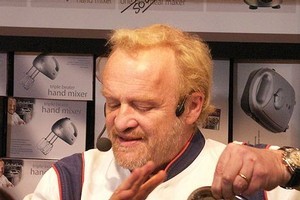 A celebrity chef in the UK has apologised after being busted reportedly stealing cheese and wine from a supermarket.
Ready Steady Cook chef, Antony Worrall Thompson, was arrested last week after being caught shoplifting from a Tesco store in the posh riverside town of Henley-on-Thames, west of London.
A Thames Valley Police spokesman, who asked not to be identified due to force policy, said there had been five separate offences over the Christmas holidays, leading to an arrest.
In a statement on his website, 60-year-old Worrall Thompson said he was sorry, apologised to his loved ones and Tesco staff.
"I am so sorry for all my recent stupid and irresponsible actions; I am of course devastated for my family and friends, whom I've let down and will seek the treatment that is clearly needed," he wrote.
"I am not the first, and I certainly won't be the last person to do something without rhyme or reason - what went through my head, only time will tell."
According to the Sun newspaper, staff at the store spotted the foodie failing to scan some goods, popping them straight in his bag, while using self-service checkouts on five occasions in just over a fortnight from late December.
Staff watched the chef on a CCTV camera then challenged him as he left the store before calling the police.
The Sun has previously reported that cheese is the most frequently shoplifted item, with four per cent of all the dairy product put on selves being pinched in the UK.
Worrall Thompson, the godson of film legend Richard Burton, has been issued with a formal caution and won't face further charges. However, the caution can be mentioned in court if he has more trouble with the law.
Worrall Thompson opened his first restaurant, the Ménage à Trois in Knightsbridge, in central London, in 1981. He went on to launch a series of eateries before moving in to television in the 1990s and producing a range of cooking equipment.
In 2009 he put his chain of six restaurants, pubs and cafes into administration, blaming his bank for being too cautious with credit.
He used his own funds to keep open two restaurants, in Kew and Windsor, and has since bought back and reopened the Greyhound, a gastropub in Oxfordshire, and the Windsor Larder, a delicatessen and cafe.
Check out Antony Worrall Thompson cooking up a storm on UK breakfast television program, GMTV:
- AP/HERALD ONLINE