Address: Ocean View Rd, Oneroa, Waiheke Island
Ph: (09) 372 9458
Website: sandbar.co.nz
Open: Seven days, midday until late.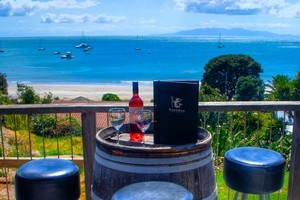 This has been something of an institution since its opening seven or so years ago and it's easy to see why.
Situated down a narrow flight of stairs, it opens up into a dark and cool surfie bar with possibly the best deck area in Auckland out through the back door, but we'll come back to that.
To be honest, I've never been all that impressed with the service when I've been in here, but the last time it was spot on. On previous visits it had been casual at best and occasionally downright surly.
The beer selection is unlikely to inspire anything but the most inexperienced palate, but then Waiheke is a place for kicking back in the sun and simply having a beer rather than a deep and meaningful relationship with its constituent parts.
The wine list is a bright spot though and it's good to see local wines available. This doesn't always happen and it's good to see the Sand Bar making the most of the wonderful wines of Waiheke. And they don't rip the guts out of it price-wise, either.
The pizzas are great, with something for everyone on the menu and, again, well priced. The bar area is clean and well-presented.
But it's the deck that makes this place. Set over several levels, it looks out to a view that wouldn't disgrace the most choosy holiday brochure. White boats bob and weave on cerulean waters and, frankly, if you don't find it one of the most charming and restful vistas ever, then I'm afraid you have no soul. As I said, it's something of an institution, and if you're going to be lazing away on the island this summer you won't find a better spot.
Scores
Service: 3.5/5
Drink: 3.5/5
Food: 4/5
Atmosphere: 4/5
Overall: 4/5