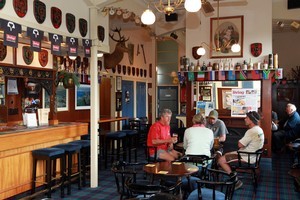 PUHOI PUB & HOTEL
Puhoi Rd, Puhoi, ph (09) 422-0812.
This popular watering hole is just 30 minutes north of the Auckland Harbour Bridge at the end of the Northern Motorway, and nestled in the picturesque Puhoi Valley - a village settled by Bohemians in 1863. The enormous garden bar is a magnet on a sunny day, but it's worth checking inside the 150-year-old villa for memorabilia of the 1860s settlers and interesting taxidermy. Good honest pub food and visitors rave about the friendly service.
EMPIRE TAVERN
137 Victoria St West, Cnr Victoria and Nelson Sts, Auckland CBD, Ph (09) 373-4389.
If you want a pub in the city that lets you relax outside, the Empire Tavern has a good garden area. It can get pretty full thanks to its proximity to some largish companies that use it as their corporate local, but the lunches are hearty and the atmosphere is friendly.
If you stick around into the night there's also live music every Friday and Saturday evenings inside the main bar.
CLEVEDON HOTEL
26 Kawakawa Bay Rd, Clevedon, ph (09) 292 8783.
A place for all ages - grab a drink, meal, or even stay the night. As well as the expected bar and garden bar, there is the Wairoa Restaurant - bistro-smart with a changing seasonal menu proudly featuring local oysters and wines. There are also regular quiz nights, local entertainers, bands and functions that support the local community.
NORTHCOTE TAVERN
37 Queen St, Northcote Pt, ph (09) 480 7707.
It isn't often you get the chance to sample a bit of history with your drink, but entering the Northcote Tavern is like walking back in time. It's not a trendy bar - it's a comfortable, friendly place with a decent range of cold beers and an amazing range of whiskies. It also gets points for having a stag's head on the wall, something rare in modern bars. The food is good, solid pub fare and the prices are more than acceptable, while the toilets are clean. Plus there's a lovely garden with picnic tables.