There's no need to waste any part of your summer catch, writes Justin Newcombe.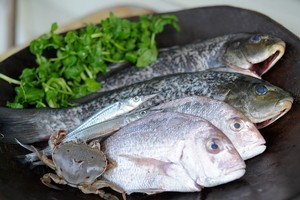 Even with all of our current regulations and rules regarding fishing quotas, legal sizes and individual allocations, summer often means an excess of the ocean's bounty. Nothing says "I am a man" more than a hard day on the end of the fishing rod. And nothing is more tragic, from a gardener's perspective, than the dumping of all that fishy waste once the prize fillets have been stripped from the carcass. Many other cultures would be horrified by such disrespect for a once-living thing. In times past our ancestors would have found a use for all parts of such a precious resource - using the frames for soup stock or the offal as a filling for a weird sausage recipe. Any leftovers of the leftovers would have then been picked clean by the chooks.
Fish waste makes the perfect organic fertiliser for your garden. It is high in the nutrient heavyweights of nitrogen, potassium and phosphorous, as well as many other trace elements essential to healthy plant and human development. Fish scraps can be easily transformed into plant food. The easiest way is to simply bury the remains (head, offal and frame) in the garden somewhere, either under a tree that looks a little worse for wear or in your vege garden.
One system I read about involved burying the fish between rows and then the following season shifting the rows over so they are over the fish compost. This would be an excellent and far less smelly alternative to dumping the remains in the wheely bin. You should aim to bury the waste a good 30 centimetres deep to avoid disputes with neighbours whose dogs are keen to roll about in the stuff. If you've got a small quantity of waste you can bury it twice as deep in your compost heap. But this should only be done in a heap you don't intend to turn for a while - so this is recommended only for serious, professional compost-makers.
Larger quantities of fish waste can be turned into an emulsion, a bit like the stuff you see in the shops. This is easy to make, essentially the same as fish stock minus the herbs and onion. Simply boil up all of the leftovers in a just enough water to cover the remains until they look suitably oily and cooked. Remove the larger bones, then liquidise in a blender. To use, dilute the mixture at roughly one tablespoon per 4.5 litres. Your garden will perform as if on steroids.
If I still haven't managed to convince you of the virtues of fish waste in your garden, then consider how useful this system is if you keep pet fish. No more abstract burials down the toilet; what you have to hand is a pot plant fertiliser package and portable shrine. The ultimate in recycling. If that's not enough there's also the biofuel option - but that's another story.