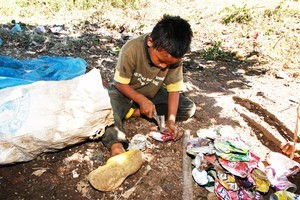 Lose weight? Save money? Spend more time with family? Quit smoking? Be a better person? Are these among your New Year's resolutions? If so, you're not alone; they're the five most popular in the Western world.
What is it about New Year's Eve that prompts us to do (or at least toy with the idea of doing) something good or perhaps more meaningful with our lives? Is it a few too many drinks? The perception of a clean slate and starting anew? Or a combination of both?
And why is it that often, not long after the countdown and the cries of "Happy New Year", many of us simply forget about the promises we made? A 2007 study by Professor Richard Wiseman from the University of Bristol found 78 per cent of us fail to keep our resolutions. Is it because, in the harsh, possibly hung-over light of day, they seem too ambitious, hard or just plain inconvenient?
In September 2000, 193 United Nations member states, including New Zealand, signed a declaration promising to halve the number of people living in extreme poverty by 2015.
This declaration, commonly known as the Millennium Development Goals (MDGs), strikes me as among the most important resolutions ever made.
But unlike losing weight or getting that promotion, if these goals are not met, there will be dire consequences.
The MDGs are eight measurable targets designed to make the world healthier, more peaceful, just and sustainable.
The goals include eradicating global poverty and hunger, gender inequality, HIV and Aids, improving child and maternal health, environmental sustainability, global partnerships and providing universal education.
The goals, or at least their deadline, have often been labelled too ambitious, but much progress has been made.
Strong economic growth in China has seen it almost halve the number of its people living in poverty, from 452 million to 278 million.
In Tanzania, 99.6 per cent of children now attend primary school - up from 50.7 per cent in 1991.
According to the UN, sub-Saharan Africa is winning the war on HIV and Aids, with new infections down 26 per cent to 1.9 million, from 2.6 million in 1997. African nations have also cut measles deaths by 90 per cent - four years earlier than scheduled.
However, we are alarmingly behind on other targets. Take ending global hunger; the numbers of hungry have been steadily rising since the adoption of the MDGs more than a decade ago. Nearly a billion people currently don't have enough to eat.
Child mortality rates remain shockingly high too; 9.7 million children under 5 years old die of preventable causes every year.
Progress has stalled because many Governments have deprioritised the MDGs. Perhaps, like New Year's resolutions, the goals were set with good intentions but have fallen by the wayside.
Development assistance has increased over the past decade but the richest states have failed to meet their commitment to donate 0.7 per cent of gross domestic product. New Zealand currently sends just 0.26 per cent of its GDP overseas.
Each of the countries maintains it has reduced its effort because of the global financial crisis. In other words, 0.7 per cent is too ambitious, hard and inconvenient at the moment.
Tell that to a mother who has just buried her child.
What is needed is a renewed commitment to the goals, by the Government and individuals.
There are many ways citizens can help achieve the MDGs, and not all of them require a financial contribution. For example, the next time you go to the supermarket, ensure the products you buy are ethical and Fair-Trade. This guarantees an agreed minimum price for the producer.
Sponsor a child - for $45 a month you can ensure the well-being of a child and his or her community.
Donate to sustainable and legitimate projects that work to address one or more of the MDGs.
Contact your local member of Parliament; our governments made promises, let's ensure they keep them.
Volunteer with Volunteer Service Abroad, or organisations working to help those less fortunate in your own community.
And lastly, be aware of the progress (or lack of it) being made in regards to the goals and their deadline. Be sure to inform others of their importance, too.
So how about forgoing that promise to yourself that you're unlikely to keep this year and making one that really matters instead? Set yourself a New Year's resolution that might just save the world.
* Laura Gemmell is a journalist with World Vision.