An easy-to-make cricket set provides endless fun, says Greig Morgan.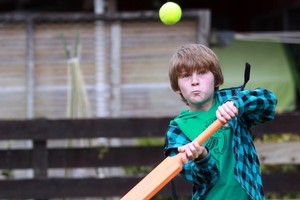 What says summer holidays more than a game of beach cricket, or batting a ball around with friends at the park? I still have boyhood memories of playing until it got so dark we couldn't see the ball. This New Year's I decided to make a quick and easy children's cricket set to keep those memories alive with my kids, Jamie and Eden. Just add friends and a ball to have fun.
Step 1
Bats: Measure pine clears and cut a length of 125x25mm to 760mm. Find the centre across the width, then measure 17mm either side of the centre point for the width of the handle. Next, measure down 250mm for the length of the handle. Then trace around a curved object to create the bat's shoulders.
Step 2
At the base of the bat measure 10mm up on either side, then trace a curve up to those points.
Step 3
Hold the bat on to the bench using clamps. Cut along the waste side of the lines using a jigsaw.
Step 4
With the bat still clamped down, round off all sharp edges using a rasp or file, then turn over and do the other side.
Step 5
Place the bat on top of the other piece of 125x25mm. Trace around it, cut out and file as in steps three and four.
Step 6
Wickets: Take the four lengths of 25mm dowel and cut at 800mm long. Measure up 90mm and scribe a line. This is for the pointy end. At the bail end, scribe a mark 6mm down and in the centre, then shape a curved line from the centre up either side to the top.
Step 7
Clamp the dowel down to the bench. At the bail end, cut along the waste side of the line and rasp the groove into which the bail will fit. At the pointy end, taper in from the 90mm line towards the centre, then release the clamp and rotate. Repeat until you have a point. You can now rasp off to make a smooth finish.
Step 8
Bails: Take the pieces of 12mm dowel, measure two pieces at 95mm each and cut. Use sandpaper to tidy any sharp edges.
Step 9
Paint the cricket set in your chosen colour.
Materials
Pine clears 125x25mm (finished size is 115x19mm) x1.8m (bats)
25mm dowel x4 @ 800mm (wickets)
12mm dowel (bails)
Ball
Tools
Jigsaw
Protective
safetywear
G Clamps x2
Rasp
Hand plane
Tape measure, pencil
120grit sandpaper
Paint