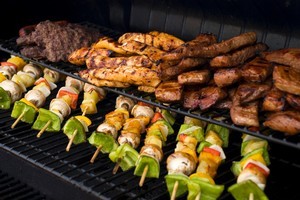 Not so long ago, a barbecue was perfectly acceptable with some charred chops, rubbery steak and sausages wrapped in bread. But blokes like Al Brown have upped the ante now, and folks fully expect a barbecue to be a flamed gourmet feast. There's no doubt that everything tastes better cooked on a fire (wood, charcoal or easy gas), so roll out the easy gourmet feast.
For starters
Toast was probably the first thing we cooked on a flame, so take it upmarket just a little to share with your barbecue friends. Toast day-old french bread, brushed with oil (and a swipe of garlic clove, if you like) on the grill as it warms up for bruschetta and top with anything you have to hand: a good pesto, a pea dip (cooked minted peas whizzed in the blender with a touch of liquid and some yoghurt), marinated sun-dried tomatoes or artichoke hearts, a chopped avocado or tomato salsa. Throw fresh figs or eggplants or peppers on the grill too, and serve on the bruschetta with a crumble of good blue cheese or feta.
Vege power
This year's slew of great vegetable books (thanks, River Cottage) have reminded us that a good meal doesn't always involve meat (or fish).
Build a terrific barbecue dinner around grilled vegetables: the smoky, grill-blackened taste gives you the satisfying umami flavours usually found in animal protein. Oil-brushed slices of egg plant, courgettes, tomatoes, whole asparagus, carrots, mushrooms, or whole corn or wedges of onion caramelised on the hot plate or grill can be built into great warm salads. Dress with a fragrant vinaigrette (play with some of the wonderful flavoured oils such as walnut or avocado), throw around some fresh green leaves. To beef up the protein count, add some canned or cooked lentils, chickpeas or cannellini beans, with herbs, lemon juice or salt and pepper. Wedges of par-boiled kumara and potatoes fried on the griddle are always a crowd-pleaser, toss through some rosemary or oregano for extra punch, and plenty of grainy salt.
A taste of Asia
We've all loved street food of Thailand, Bali or Singapore, with tasty mouthfuls cooked over tiny charcoal braziers. Make up your own continuous feast around the best of the East with a series of skewered and braised dishes. Start with easy-to-pass kebabs of marinated prawns, fish, chicken or beef (soak the bamboo skewers well in cold water so they don't burn on the grill) with marinades to suit. For Indian-style marinate meat in yoghurt with coriander, cumin, paprika and chilli powder, soak beef in a soy, garlic, chilli and ginger mix for your own take on Singapore. Grill skirt steaks and thinly slice for a Thai beef salad (dress with fish and soy sauces, brown sugar and lime juice or rice vinegar) and serve on a bed of sliced peppers, julienned carrots and bean sprouts with rice noodles and crushed peanuts. Make sure you match the ale to the country and your guests will be satisfied.
Burger off
Yes, yes, I know we all have our favourite Kiwi burger (Watties tomato sauce and canned beetroot essential) but you can go international. Try Southern American style with caramelly pork, a sweet pepper sauce and lots of coleslaw, or pseudo-Italiano with a patty with hot Italian sausage and Italian herbs mixed through the beef/lamb mince, served with good pesto, grilled red peppers and mozzarella cheese with a peppery rocket salad. Mexicano means a spicy beef-and-bean patty, chopped avocado and tomato salsa, a swipe of chilli sauce or sour cream instead of the mayo, topped with shredded lettuce. Think Thai, Japanese, whatever, with the usual veges given the international treatment.
* Catherine Smith is editor of Weekend Life and a member of the Food Writers' Guild.