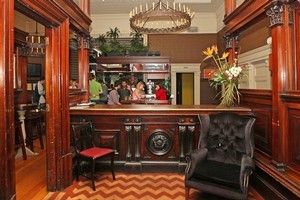 I was really looking forward to coming in here. The beer selection is fantastic, I'd heard the food was good and it's in a handy spot in town.
I'm still not sure whether or not I actually enjoyed it, though.
I turned up with some friends in tow for a few ales and a feed and all was going swimmingly as we rolled up to the bar and sorted out a table. We perused the impressive beer menu, made our choices then sat back and prepared for a pleasant evening.
And it was all going well until I went to the bar to get a drink and found that I had unsuspectingly been rendered invisible at some point in the previous half hour. I raised my eyebrows at staff, I waved money, I started sentences that sadly died, unfulfilled, on my lips as the bartenders swished past on some urgent errand, such as refilling the bottle fridge or talking to their mates at the other end of the bar.
It takes a lot to turn me off a bar with so many beers that it can offer a cellar selection.
And it annoyed me more because otherwise everything was very good indeed.
As I said, the beer selection is outstanding, if eye-wateringly expensive, and the food is well done, beautifully presented and affordable.
The toilets are clean and the bar is tidy and presentable and it's a handy spot, as I've said.
So, I'm willing to forgive its foibles on a busy Friday night but, really, someone needs to make sure that all customers are treated equally.
Scores
Service: 1/2
Drink: 4/5
Food: 4/5
Atmosphere: 4/5
Overall: 3.5/5