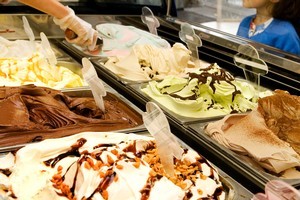 The search for the best ice cream in town and around started one Sunday afternoon in Pukekohe. We'd been to an equestrian event that turned out to be more of a don't than a do and driving home down the main street happened across Grandioso Gelato.
Disappointment turned to delight as we cooled down over a cup of lemon sorbet, strawberry and chocolate gelato cones and a mouth-watering hazelnut and award-winning Italian mandarin stracciatella gelato.
"You know, Mum," mused Miss Six, "we should try to find the best icecream in Auckland and you should write about!"
Two and a half months - and countless ice creams, gelatos and sorbets later - Miss Six may have been regretting issuing that particular challenge, which was accepted with gusto. All in the name of research, we travelled near and far and sampled everything from the much-loved traditional vanilla icecream to hot smoked salmon and dark chocolate gelato.
We were amazed at the growth in the number of outlets offering the cool, sweet treats; puzzled by some of the flavours and how to put them together; equally awestruck by some prices and dazzled by the creativity, imagination and commitment to quality shown by most makers.
Before we can even talk about where to go to sample the best ice delights, we need to be clear that what we mean by icecream is changing; gelato and sorbet are now serious players in the frozen dessert market.
So what's the difference?
Icecream is made using milk, eggs, cream, sugar and blends of fruit and flavours. Gelato is an Italian invention - and as Italian influences grow in NZ, we're seeing more of it - which contains eggs, sugar, fruit and flavours but is more often made with milk rather than cream. That's good news for dieters because it's generally lower than icecream in fat. Sorbet is a water-based, dairy free dessert which uses sugar, egg whites and flavours which are often more intense than in icecream and gelato.
When the judges in the New Zealand Ice Cream Awards judge the quality of icecream, they consider appearance, body and texture, flavour and melting properties with most marks awarded for flavour.
We didn't have the technical expertise of chief judge Kay McMath and her five-strong team but we were still interested in appearance, body and texture and flavour along with value for money and customer service.
So here's where to find great icecream, gelato and sorbet.
SOUTH AUCKLAND
Grandioso Gelato
20 King St, Pukekohe
Good range of flavours and well priced making a tasty and cost effective family treat. The hazelnut and award-winning Italian mandarin stracciatella gelato remained one of our favourites.
Clevedon Superette
16 Main Rd, Clevedon
With no other specialist small-scale icecream stores in south Auckland (at least that we found), the local superette or dairy is often the most accessible place to find great ice cream. After all the travelling and tastings, Miss Six declared her favourite is still Tip Top Apricot Delight. Moral of the story? Don't forget about your local.
ROYAL OAK
Ollies Burgers & Ice Cream
Roundabout, 802 Manukau Rd
Aucklanders' love affair with Ollies began on Valentine's Day in 1973 - and it's still going strong. It sells a range of American-inspired takeaway treats and Tip Top icecream. The coconut marshmallow I tried on my visit was decadently sweet and $4.80 for two scoops in a waffle cone was great value.
MISSION BAY
Ginelli's
55 Tamaki Dr
During the past 10 years, Ginelli's has created more than 50 award-(Above, from left) Bonnie Coutts, Graham Copp and Gemma Whitehead with some delectable Rush Munro flavours.winning icecream, gelato and sorbet flavour combinations using authentic Italian recipes often given an Antipodean twist. With around 36 flavours to choose from, they've got one of the most colourful stores around. The Turkish delight and pistachio ($7.50 for two generous scoops) was fantastic but the real winners were the sorbets which were refreshing with just the right amount of tang. The blood orange, watermelon and melon and peach flavours were particular favourites.
Movenpick of Switzerland
75 Tamaki Dr
Just a stone's throw from Ginelli's, Movenpick offers rich, full-bodied icecreams (plus other desserts) but they're pricey. Two single cones and two doubles cost us $24, but my husband declared the vanilla bean to be the best he had tasted. Branches also in Parnell, Downtown and Takapuna.
NZ Natural
2/35 Tamaki Dr
A locally made favourite with a great range of affordable ice creams, fruit flos, juices, shakes and smoothies. Chocolate and English toffee makes a great combination and the kids love the strawberry surprise. NZ Natural outlets are popping up in more shopping malls, too.
AUCKLAND CITY
If you work, live or play in the inner city, you are extremely well-served.
Valentino's Gelato
Auckland Ferry Building
Offers freshly made Italian icecream, gelatos and sorbets which you can sit and eat looking out on the harbour. Miss Six particularly liked the raspberry sorbet, saying it was raspberry tasting without being too strong.
The Kapiti Store
19 Shortland St
This was where I got one of my personal favourites from: a scoop of authentic-tasting gingernut - think cookie dough but with gingernut biscuits - and feijoa.
iStorm Gelato and Espresso
Chancery Square
Refreshing gelato using authentic Italian recipes.
Gelatiamo
North Wharf in the Wynyard Quarter
This is the newest player in the gelato game. Great location, but a smaller range of flavours. That's not necessarily a bad thing; sometimes too much choice can be daunting.
Giapo Gelato & Research Kitchen
279-281 Queen St
You'll find some of the more unusual flavours here. Chocolate and hot smoked salmon, anyone? Totally committed to using organic ingredients and always looking for new flavour combinations, Giapo gets full marks for innovation and flavour. Vegan, gluten and lactose-free options available.
PONSONBY
Casa del Gelato
288 Ponsonby Rd
After a hard week, discovering this ice cream cafe was a dream come true so I couldn't resist a gelato cocktail topped with chocolate sauce and liqueur. Worth the $9.50 for this much-needed treat. For those looking for something less indulgent, there's 16 gelato and 12 fat-free sorbet flavours to choose from. Also in Birkenhead.
NEW LYNN
Kohu Road Creamery & Cafe
44 Portage Rd
A trip out west to Kohu Road is a true family treat. The Creamery & Cafe offers fantastic food plus a selection of premium icecream and sorbets made using fresh and locally sourced ingredients which are as natural as possible. The icecreams (except Cookies 'N' Cream) are gluten free and kosher; the sorbets are gluten, dairy and GE free, vegetarian, vegan and kosher (except passionfruit, which has honey added). We particularly liked the four-scoop sampler ($8) and the chocolate sorbet is to die for ... and did we mention the lemon curd icecream? Flavours change depending on the seasons, so worth visiting regularly to see what's new.
TAKAPUNA
Takapuna Beach Cafe and Store
The Promenade, Takapuna Beach
This bustling cafe also offers a range of tempting takeaway treats including some of the best gelato and sorbet around. It's clocked up an impressive number of accolades at the New Zealand Ice Cream Awards where, this year, its coconut & lime curd gelato won the Supreme Award for a Boutique Manufacturer while its mango sorbet won the Sorbet Best in Category. The double chocolate & honeycomb gelato was the winner of the Kids' Choice Category. The flavours are full-bodied; the scoops generous.
OUT OF AUCKLAND
Blue
2 Matakana Valley Rd. Ph (09) 422 7797, blue.co.nz
In summer, there are queues out the door and along the footpath at this popular icecream shop and smoothie bar which is the sister business, if you like, to blueberry orchard Omaha Organic Berries. The range includes organic and non-organic icecream and fruit sorbet. Given its link to the blueberry orchard, it's perhaps not surprising that the blueberry sorbet is pretty damn good.
Monte Gelato
Shop 2, Tower One, Marine Parade, Mt Maunganui. Ph (07) 574 9283, montegelato.co.nz
Owners Evan Skidmore and his sister-in-law Lyn use Italian recipes to create their 25 exquisite flavours, one of which is the ununusal Red Bull "Energy" gelato. Their most popular, the yoghurt berry, won a gold medal for being the best in the country in the low-fat category at this year's New Zealand Icecream Awards, while their other medal-winners include the lemon sorbet (gold) and the limetta (lime sorbet, silver). Treat yourself after a day on the beach.
Rush Munro's Ice Cream Gardens
704 Heretaunga Street East, Hastings. Ph (06) 878 9634, rushmunro.co.nz
New Zealand's oldest icecream parlour is set in cute gardens in Hastings. Choose from more than 28 natural flavours including malted milk, ginger & honey, and lemon gin. Open 7 days.