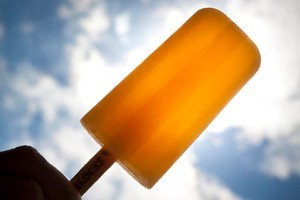 When you're feeding a little person you suddenly feel terribly responsible for their health and often start looking more carefully at what you are putting in their mouths.
And that's really how it started for James Crow and Tommy Holden. They had been friends for years and always talked about going into business together. They both came from an upbringing where "natural was best" with Tommy's parents working with organic produce and James' parents making a natural skincare product for eczema, now known as Pot of Gold.
"We wanted to make something delicious that we could feel comfortable feeding our families and that was also made ethically," says James. "It seems others were looking for the same thing."
Originally they liked the idea of living the dream and selling their iceblocks at Piha over the summer. They knew they'd have to go through a lot of council consent for that though, so thought they may as well do it on a bigger scale if they were going to jump through the hoops.
They started producing Nice Blocks at the back of what is now Little Hero cafe in Pt Chev in November 2010 and gave them out at a gallery opening. People loved them and they were soon doing lots of other events, selling them out of a handmade old-school icecream cart.
In just a year, the business has taken off and a lot of cafes are stocking them now too. The flavours are: orange - with NZ citrus; strawberry - with a dash of lemon; lemonade - with a dash of lime; choc raspberry - with creamy coconut; choc banana - with fairtrade bananas; and choc coconut - with shredded coconut.
The ice blocks are 100 per cent natural (no high fructose corn syrup or genetically modified ingredients), made with organic, local ingredients wherever possible, are vegan and gluten-free and are made using biodegradable packaging and bamboo popsicle sticks. They are also the world's first Fair Trade certified range of ice blocks.
For the sake of your kids' health and the joy of your tastebuds, make sure you get acquainted with Nice Blocks this summer.
WHERE TO FIND: Nice Blocks will be at Coromandel Gold, Whitianga until Jan 2. For upcoming events and stockists see niceblocks.co.nz.