Libby Nicholson-Moon talks to two women about their unsual hobby.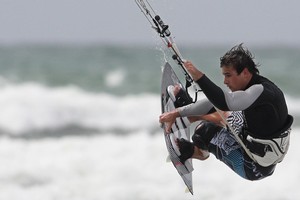 The allure of kite surfing - the possibility of skimming over the water effortlessly while not being weighed down by excessive gear - is catching. I recently met up with two passionate kite surfers, SuzieWigglesworth and Tracy Bilger, who have made the crossover from windsurfing to kite surfing. As young mothers, they love the freedom that kiting gives them to exercise and have fun at the same time. Suzie got into kiting "because it was something my husband wasn't involved in, and I wanted to be out on the water with him, but be doing something different. I've gone for freestyle because I love the jumps and tricks."
These women haven't let being mothers cramp their style, but sensibly cut back during pregnancy. Tracy was back in the water only a few months after giving birth to her first daughter. "I would breastfeed," she says, "and then leave Lucy with my girlfriend on the beach, and go for a blast until it was time for another feed."
The catalyst for Tracy's decision to switch to kite surfing was the inordinate amount of gear she needed to take on holiday, while her husband's kiting gear fitted into a backpack. "I thought it would be too technical, and enrolled for two lessons in order to prove that it would be too difficult ... but I completely fell in love with it. I had a total of six professional lessons, which were brilliant. Once I could fly the kite and do a body drag (sailing the kite without the board) to get momentum, I was ready to use a board."
Auckland-based Chilean kite surfing instructor Juan Cumar has been involved in sports since he was 5 years old and runs JCkitesurfing in Grey Lynn. Juan agrees lessons should be mandatory for beginners, and offers three basic sessions of two hours each for $150 per person. "A beginner just needs to turn up with a wetsuit, as all the gear is provided. I cover practical technique, wind direction, and safety, and then I suggest the best spots for them to begin their kite surfing," he says.
"I have clients of all ages. All you need is a minimal level of fitness, a commitment to learn, adequate money to buy basic gear, and a sense of adventure. If you become seriously addicted, then you can build up your inventory as you go along."
Suzie adds: "It's like learning to snowboard.
There's a steep learning curve, and you need to stay committed to the journey. As a beginner, I always had a support person when launching and landing my kite".
Tracy always sails in an "onshore" wind, as there is less chance of ending up having a "kitemare" and being blown out to sea. When it comes to looking for the right kiting conditions, she has an added advantage, as her husband Jon is the founder and director of Predictwind.com, a wind forecasting website. "Always be aware of your surroundings, and make sure you never come within a 100 metres of any hard object. Following the correct procedures will lessen the chance of any mishaps.
"With kiting, you feel like you are in tune with the elements and almost hovering over the surface of the water."
Tips for beginners
Always get lessons from an approved kite surfing school, so you learn all the safety precautions and adhere to them. See here for more info.