The township of Warkworth's community feeling is what makes it so special, Darryl Soljan tells Rebecca Kamm.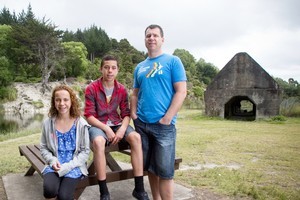 The people and places are what make Warkworth great. Everybody's incredibly caring and community minded. Maybe that comes from their rural roots. And because so many residents get actively involved with local schools, sports clubs and community organisations, the people of Warkworth - from the very young to the very old - have loads of opportunities, facilities and a great standard of living. I think our community is very connected; we look after each other.
Having Goat Island Marine Reserve, sandy beaches, Hauraki Gulf and five regional parks (Mahurangi, Pakiri, Scandrett's, Tawharanui and Te Arai) right on your doorstep is also awesome.
And the town of Warkworth itself is beautiful, with the Mahurangi River running through it. The wharf has two perfectly restored vessels tied to it (the Jane Gifford and Kapanui) and the boardwalk and trail winds through the bush past the weir and rapids.
There are four of us in the family, plus Rascal and Petal (rabbits) and Yo-Yo the talkative rainbow lorikeet.
We're spoilt for choice when it comes to shops. Stubbs Village Butchery has our favourite chipolatas and Chocolate Brown is chocolate heaven. Charlie's Gelato Garden makes sensational seasonal icecream, sorbet and sorbetto, so that's a favourite family stop.
We go to Thai Warkworth occasionally. My wife, Bridget, can often be found at The Bridgehouse, where they do a great Tuesday pub quiz and food that's way better than your average pub. We don't do takeaways very often, but when we do there is an excellent Chinese as well as K&J's, which does good fish and chips and awesome fried chicken.
We spend a lot of time at the old Cement Works on hot days. Lying on the grassy banks, diving and swimming into the freshwater lake that was the old lime pit and surrounded by the extensive towering old ruins of the old kiln is pretty special.
Warkworth was established in 1843 so you can follow the Heritage Trail to see some very historic buildings, including New Zealand's oldest cement houses and buildings like the Masonic Lodge.
Parry Kauri Park has a stunning boardwalk through the bush and some magnificent ancient kauri. It's next to the Warkworth Museum, which is also definitely worth a visit.
Feeding ducks at the wharf is fun for the kids, and if you get your timing right you can take a trip up the river on the restored sailing scow Jane Gifford that plied the same waters over 100 years ago.
Darryl's picks
* Old Cement Works: Wilson Rd (off Pulham Rd)
* Stubbs Village Butchery: 10 Queen St, Warkworth, Ph 425 8949
* Thai Warkworth: 6 Wharf St, Ph 422 2511
* Warkworth Museum: Parry Kauri Park, Tudor Collins Dr, Ph 425 7093.
Darryl and his wife Bridget are the founders of Ascension Wine Estate, host of next year's Classic Hits Winery Tour. Darryl is also the Chairman of Warkworth Wellsford Hospice.