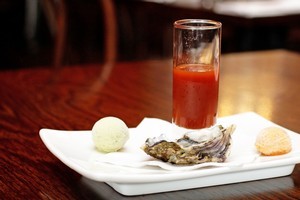 Let's face it, by midweek the body is starting to feel rested - and ready for perhaps a healthier flair to the drinks glass. Drinking your fill of cocktails that deliver fruit juice - or tomato or vegetable juices - can help take care of your five-plus-a-day quotient. Add some whole chunks of fruit to the glass, or a chewable swizzle stick of crunchy celery or sliced cucumber, even some skewers of olives (brine packed, not oil) or cherry tomatoes, and you've improved the vitamin content no end.
Many of these drinks can be made "virgin" - that is as fruit drink minus the alcohol - so that you can spread the party spirit to the abstainers as well.
Tequila Sunrise
It may have given rise to one of the most dire hit songs of the 70s, but it is time this 1930s classic drink got a reprise. The bright red grenadine (a pomegranate cordial) sinks to the bottom of the orange juice to create a fetching evening glow. The trick to getting the grenadine to the bottom of the glass without ruining the effect is to pour it down the back of a spoon held inside the glass. This is one of the few drinks where a fake maraschino cherry is still acceptable (along with a slice of orange).
Fill a long glass with ice, pour in two measures of gold tequila and four measures of freshly squeezed orange juice. Quickly add half a measure of grenadine. Do not, whatever you do, start humming that Eagles song or the brain worm will never go away.
Bloody Mary
Whenever you feel the need for the health-giving vitamins and lipocenes of tomatoes, you can reach for one of the all-time favourite drinks, the Bloody Mary. Frankie Walker from The Mix reckons it is one of the greatest matches for barbecued foods, but you can slip one in earlier in the day with a hearty brunch (great with an eggy fritata, a mound of crispy bacon and plenty of salsa on the side). The basic version is to fill a glass with ice, top with tomato juice and as much of a slug of vodka as you need at the time. The zing comes from adding drops of hot Tabasco sauce or a meatier Worcestershire sauce (or both), a grind of black pepper plus a squeeze of lemon juice and a slice of lemon. Walker's secret bartender version includes half a teaspoon of creamed horseradish and celery salt. You could use a chilli vodka for even more bite, or round out the alcohol with a dash of dry sherry. Add your vegetable stirrers and you can pretty much skip breakfast and head straight to lunch.
Tea Breeze
Walker loves to play with the classic 1990s fruity cocktail the Sea Breeze, suggesting you add your favourite chilled herbal tea then mix it long with juices and citrus. His Summer Tea Breeze pairs Smirnoff vodka with peppermint tea, honey and pressed apple juice, garnished with fresh apple while the Tropical Tea Breeze adds chamomile tea, cranberry and pineapple juice to the vodka, garnished with a wedge of lime.
Bombay Blush
Walker's given us the insider gen on what he sees as an upcoming star. He swears his Bombay Blush has about one third of the calories of a G&T: "Totally delicious, healthy-ish and really refreshing," he assures the Herald. To the Bombay Sapphire gin add pink grapefruit juice and a dash of soda, served in a super long glass with fresh lime wedges squeezed and dropped in. Thus fortified, the British might never have lost the Empire.
Blood Orange Ciderlicious
This summer Tomas Vikario, beverage innovation manager for the Monin syrups, has been playing with the healthful ciders - producing a booklet of recipes for Isaacs. His Blood Orange Ciderlicious couldn't be simpler:
30ml Monin blood orange syrup in a long drink glass filled with ice, topped with a bottle of Isaac's Apple Cider. It's acceptable to decorate with orange slice and mint sprigs, and keep adding more ice and topping with more cider as the afternoon wears on. No problem guessing that the Watermelon Ciderlicious follows the same recipe, but trimmed with a wedge of watermelon.
* Catherine Smith is editor of Weekend Life and a member of the Food Writers' Guild.