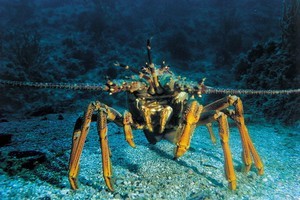 We often refer to the relationship between small baitfish and the species we like to catch. This is particularly relevant with the common jack mackerel, or yellowtail, and snapper.
But there is another pairing that few people may know about. It involves diving, or setting pots, for crayfish.
Where there is a large reef structure, it is obvious it is good country for crays. But in some places, like much of the Bay of Plenty, there is a huge amount of water with no serious reefs.
What the local divers do is look for a rock on the depth sounder. It is usually a single, round rock sticking up from the flat seabed. And if it has fish on top, you stop and jump in. The fish are commonly maomao, tarakihi or mackerel. But if there are no fish, don't bother, as there won't be any crayfish either.
People often ask: "Where can I find some crayfish around Auckland?" You can forget about checking the piles under the harbour bridge, but there are certainly crays around the Waiheke Island coast, and some of the foul bottom between Maria Island and Durville Rock is reputed to hold crays.
Kawau Island has been hot this summer for crayfish, according to some of the local fishermen. And the Manukau Harbour inside the entrance is a well-known spot, but divers have to work the tides and avoid strong currents - and also watch for the jungle of fishing lines trapped in the rocks.
Snapper will be in the middle of their spawn and may not be partial to baits, but the spawning takes place over a long period and the fish that have finished will be hungry as they regain condition.
The inner channels and the Waitemata Harbour should pick up with the recent hot weather, and the number of rods sticking out off Devonport Wharf is always a clue that the fish are in the harbour.
Further afield, if concentrations of birds and dolphins can't be found, another approach is to motor along until you see a school of baitfish in midwater. These are usually mackerel like yellowtail, and they indicate a good spot to stop and drop the anchor.
Albacore tuna are running off the west coast and a free-jumping marlin was reported by a commercial fishing boat off the Kaipara Harbour. The gamefish won't be far away.
In Tauranga Harbour, kingfish and trevally can be found around wharf piles and other structures. Drifting past marker buoys and dropping a lure is a good way of checking to see what is around, and both species will take jigs and soft plastics. Snapper up to 3kg can also be hooked around the wharves.
Fishing is still slow off the Mercury Islands, but soft plastics over the sand are producing pannier snapper off Matarangi. The deep pinnacles around Cuvier Island have also been fishing well for snapper and kingfish.
In the Bay of Islands, there are reported to be good numbers of snapper on the centre foul and in 40-50m under the birds.
Like all holiday areas, the annual influx of boats will no doubt affect the fish, and it will be necessary to fish either at dawn or dusk.
In Rotorua, lake temperatures have jumped by about 3C, topping 19C. This usually signals the start of two types of fishing - fly-fishing at cold-water stream mouths and jigging on the deep lakes. Spots like the Awahou and Waiteti stream mouths on Lake Rotorua start firing around Christmas, depending on weather conditions, and the word spreads quickly, so it is easy to see by the number of rods whether it is happening.
One lesser-known stream that performs the same is Twin Creeks on Lake Tarawera. During the day, it is better from an anchored boat, fishing out over the drop-off, but at night trout will move in over the shelf and can be picked up by wading. Smelting trout can also be found at Stoney Point and over the wide shelf off Kariri Point.
The deep lakes stratify in hot weather, separating into layers where temperature changes, and where they meet - call the thermocline - is where schools of smelt congregate in vast numbers, attracting the trout.
The smelt and trout can be located on a good fish finder, and this is where jig-fishing with small smelt flies is so deadly. It is strategic fishing, where finding the concentrations of fish is critical, but once mastered it is a very efficient way of catching trout. As they are caught on light tackle, they can be released unharmed.
Finding other boats is an obvious way of finding fish, but it is also important to respect their position and not get too close.More fishing action can be found on Rheem Outdoors with Geoff, 5pm tonight, and on the internet television channel FishnHunt.Tv