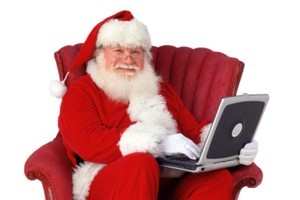 The North Pole has confirmed Santa Claus has departed for his trip around the globe this evening and is now en route to New Zealand.
The red-suited man can expect to have a busier night than ever, as 2011 marked the year the world's population surpassed 7 billion.
Children in New Zealand, Tuvalu, Tonga, Fiji and the far east of Russia will be among the first in the world to get a visit from the jolly fat man.
For kids in Samoa however, there's a longer wait, although this year will be the final time they're the last in the world to get a Christmas Eve visit. Next week the country will shift its timezone forward to bring it into line with New Zealand's.
In confirming Santa's departure this evening, North Pole sources let slip to nzherald.co.nz that there had been a bit of pre-flight drama.
Last minute calibrations had to be made to Santa's sleigh, due mainly to a proliferation in technical gadget gifts which caused a weight differential from last year's sleigh settings.
"Santa's initial take off had to be aborted at the last minute," a source confirmed.
"There'd been some grumbling from the reindeer about excess sleigh weight - and that was confirmed by an official check.
"We underestimated the effect of having all those extra iPads, iPods, Kindles and Nerf Vortex Nitron Blasters onboard."
Earlier this week Santa Claus took some time out of his busy pre-Christmas schedule to talk to nzherald.co.nz about this year's trip.
He was particularly keen to stress that children affected by the earthquakes in Christchurch wouldn't be forgotten about.
"I know many Kiwi kids in Canterbury have moved around a bit this year. I want them to know our research elves have been following their whereabouts (in a strictly non-creepy or potentially prosecutable way) and we have a definitive list of addresses for them," Mr Claus said.
They're not the only ones who might have been a bit worried this year.
Santa Claus said he'd received many letters and emails from children in north-eastern Japan who'd been forced to relocate due to the devastation wreaked by the March 11 earthquake and tsunami.
"It's been such a horrible year for so many kids around the globe", he said.
"I'll just be working my darndest to give 'em the best jolly Christmas I can."
Although as coy as a wily politician when it came to the details of exactly how he manages to deliver his Christmas magic, Mr Claus did provide one insight into his journey to the Southern Hemisphere.
He confessed it involves a change of clothes.
"Everyone knows the South Pole is a little on the chilly side," he chuckled as his belly rolled like the proverbial jelly bowl.
"So I start off wearing my heavy duty Santa suit - then I change into a pair of board shorts before I hit New Zealand and Australia."
The clothing change takes place at a secret South Pacific location, and also provides an opportunity for a quick dip in the sea for the reindeer.
"Yeah - they get a bit cranky when we cross the equator - it's just so hot. And like every good driver knows - it's important to take a break on a long journey."
What about the quality of Christmas goodies left out for him? Has it changed at all?
"Certainly the anti-obesity drive in recent years has made a difference. I used to get a heap of mince-pies and a glass of full cream milk. More often now I find a carrot and a pint of soy.
"But," he said leaning forward, "don't tell Mrs Claus...I keep a supply of candy canes in my sleigh to keep my blood sugar high during the night.
"We all have our vices," he chuckled.
Nothing stronger then?
"Well, it used to be a bit easier a century ago. But since the invention of the airplane, it's just too dangerous. There's too many things you have to share the sky with - and that includes wayward satellites. You'd be surprised how many near misses with those I've had! And really - bottom line - you should never drink and fly."
What about his plans for the New Year?
"Oh well, after a hard year's work I always have to set aside some time for Mrs Claus.
"Then bang - it's February again - and it's time to crank up the workshop and get ready for next year's Christmas."