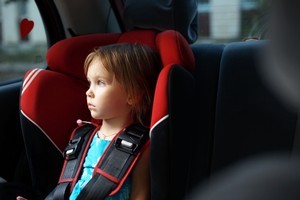 Children are being left locked in cars by Western Bay of Plenty parents completing their Christmas shopping.
Fraser Cove shopping centre has had at least four incidents this month and Bayfair Shopping Centre has also noticed the problem.
Tauranga police Senior Sergeant Rob Glencross said it was a crime to leave children locked in a car alone.
"It's an offence to leave a child unattended in a situation where they will suffer or be caused stress. If you leave someone in a car on a hot day they are likely to suffer," Mr Glencross said.
"It's basically a form of neglect. It comes under wilful neglect of a child [and] prosecution is one possible outcome."
Fraser Cove shopping centre manager Marie Mischewski said her security team had noticed a rise in cases of unattended children in cars in the lead-up to Christmas - there had been at least four cases this month, one involving police.
A security guard at the centre got "a fair bit of abuse for [dealing with] it, because nobody likes to be told what they should or shouldn't do with their children," Ms Mischewski said.
"People think they know better when their children are concerned."
Security guards would wait beside cars for about five minutes for parents to return and only then call police, she said.
"Parents even say, 'I left the windows down and I did this and I did that ... a lot of them say their child was sleeping. But it doesn't make it right."
Bayfair Shopping Centre marketing manager Nina Rivett said the discovery of children unattended in cars wasn't regular but did happen.
"In a lot of cases the parent will only pop in for 10 minutes, but we don't know that. It could be 10 minutes or it could be three hours.
"It's on the list of things to watch when we do our patrols. The welfare of the child is paramount. We treat every case the same and we will inform the police."
Plunket says leaving kids in cars is bad parenting.
"Invariably your one-minute trip will take longer and kids can get into trouble very quickly," said national child safety advisor Sue Campbell.
"A child can undo their seatbelt or their harness and get out. Or undo the handbrake and all those other things."
Toi Te Ora Public Health medical officer of health Dr Phil Shoemack said there were considerable dangers in leaving children alone in vehicles, particularly over summer.
"On a particularly hot day, with the magnifying effect of glass, it's possible for a child to get quite hot which has other dangers. Everybody knows what frostbite is, but getting too hot can be dangerous too. Especially younger children can quickly dehydrate. The heart has to work much harder if there's less fluid."
For more articles from this region, go to Bay of Plenty Times