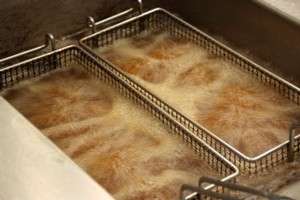 It's a calorie-laden treat being billed as "a coronary on a plate".
From the nation that gave us the deep-fried Mars bar comes the Braveheart Butter Bomb - claiming to contain enough calories to keep someone alive in the Arctic for more than a week - or maybe kill them within a year?
The dessert is made from balls of frozen butter, soaked in batter laced with either of Scotland's national drinks - Irn Bru or whisky - and deep fried until golden.
Serve with several dollops of Irn Bru ice cream, add a drizzle of sticky coulis.
"Ok, it's not exactly health food," says Simon Robertson, head chef at the Fiddler's Elbow in Edinburgh, where the culinary creation is being served.
"But as long as you're not having it every day it shouldn't be any problem."
He and Paul Fitchie, formerly a chef with Harvey Nichols, devised the artery-clogging dish to add to their menu of Scottish fare and insist "it's really got people talking." (Which must be a good sign, we can assume, because it shows they are still alive).
The British Nutrition Foundation estimates that a four-ball serving plus ice cream would probably rack up about 1450 calories - more than half the average intake for a man and nudging towards the 2000 average for a woman.
Would you like to try the Braveheart Butter Bomb? What's the whackiest deep fried food you've come across?
- DAILY MAIL