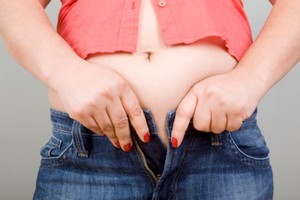 Don't rely on the man in your life to tell you that you're piling on the pounds.
Men are much more reluctant than women to confront a partner about their weight.
Almost a third of men don't want to raise the subject compared to a mere 10 per cent of women who would be reluctant to suggest their partner slimmed down.
However, when it comes to telling a close friend to go on a diet, it's a very different story.
Almost a quarter of women would find it hard to bring up the subject compared to only eight per cent of men.
In a poll of more than 2000 people, supported by the National Obesity Forum, most said they were worried about someone's weight, and almost 60 per cent said they feared an overweight loved one would develop serious health problems.
But about 30 per cent said the fear of hurting their feelings or provoking a bad reaction would stop them from suggesting they needed to lose weight.
Fat, especially around the waist, increases the risk of Type 2 diabetes, coronary heart disease and stroke, so while it's a touchy subject, Professor David Haslam says you should pipe up.
"Suggesting to someone that they should consider losing a few pounds may not be a comfortable conversation to have but if someone close to you has a large waistline, discussing it with them now could help them avoid critical health risks later and could even save their life," says Prof Haslam from the National Obesity Forum.

Jean Pierre Despres, from the International Chair on Cardiometabolic Risk - the academic organisation in Canada which commissioned the poll - says fat around the waistline is more dangerous than elsewhere on the body.

"This is about health not vanity," Dr Despres says.
"Start by encouraging someone close to you to make simple lifestyle changes such as becoming more active, and making small alterations to their eating habits."
He says men with a waist greater than 94 centimetres and women with one greater than 80 should take steps to lose weight.
Have you ever told someone they're packing on the pounds? Would you?
- DAILY MAIL