Find more restaurant reviews with our Google map
Address: 44-46 Queen St, City
Phone: (09) 929 2702
Cuisine: Bistro
Rating: 7.5/10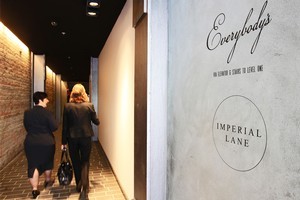 The choices, the choices. What a year it's been with so many fabulous new additions to Auckland's dining scene. To finish the year, here's one more - Everybody's. Situated in the new Imperial Lane development between Queen St and Fort Lane, I wondered if I was taking a risk in visiting this bistro and bar so early in its career - it had been open for only three days - but my curiosity got the better of me.
As soon as I walked through the easy-to-miss entrance next to Louis Vuitton on Queen St, I knew I was going to love it. The laneway has been restored and up the spiral staircase is where you'll find this new casual bar and eatery. The space is sensational - white and spacious but saved from being stark or cold by the fact that so many of the original features of this 100-year-old building have been retained; the beautiful pearly white ceiling with its pressed pattern, the iron supports, piping and rafters, the exposed brickwork. The rest is brought into the present day with clever design features such as raised planters of bright green foliage spilling to the floor, spectacular chandeliers of lampshades, polished wooden floors and an open terrace area with the sky and stars above making you forget you're in the heart of the city.
My friends were already nestled into one of the semi-circular, padded booths when I arrived and no sooner had I sat down, than our waiter arrived to introduce himself. He and the rest of the staff that we dealt with throughout the night were exceptional. Appropriately informal, cheeky and fun, but never at the expense of being professional and efficient, they were all fully knowledgeable and at ease with the details of the menu and their enthusiasm for each dish was genuine and infectious.
The menu isn't extensive but the choices are interesting enough that it in no way feels limiting. We deliberated over such tempting choices as scampi omelette, slow-cooked salmon, wild rabbit, tuna, tarts, a seafood "cassoulet" and wagyu skirt steak.
Entrees arrived and there were a few surprises. I wouldn't have picked that my friend's choice - a warm onion tart - would be the winner of the entrees, but it was. Slowly roasted peppers, sweet, soft onions and tangy goat's cheese were crammed comfortably together atop a tile of flaky pastry and it was a magical combination of intense flavours. My entree didn't leave me quite as smitten. A pretty looking plate of tuna, globe artichoke and candied fennel, with a smear of smoked aubergine, was fresh and light but wasn't a complete knockout. The fennel had lost its aniseed to the sugar and the tuna may have benefited from being served more chilled. I felt healthy eating it though and, knowing what I had coming for my main, this was a blessing. The other entree for our trio smacked of a Swedish influence. Generous chunks of soft salmon were paired with new potatoes, cucumber and endive and bound with creme fraiche to form an exceptionally good salad.
Staff work the room like they've been doing it for years, not days, and the open kitchen was a hive of organised activity. When our mains arrived we realised we might need a bit more to sustain us so placed an order for a side of duck fat fries. We were mightily impressed when they arrived in minutes.
My twice-cooked gorgonzola souffle was brilliant - piping hot and oozing flavour, it was rich and soft and deeply satisfying. The crisp, fresh slices of pear and sugared walnuts were a great textural contrast.
While duck confit is hard to get wrong for any kitchen these days, Everyone's is especially good, served as it is with farro (an ancient grain), broad beans and a preserved lemon chutney, which were all great foils for the fattiness that can sometimes trip this dish up. The skirt steak, fanned out magnificently across the plate, was tasty and as chewy as it ought to be. Served with bone marrow and a hit of horseradish, it wasn't an overly generous serve (hence the duck fat chips) but the quality was there.
Both of us girls were full but couldn't resist a baked apple galette (marvellous) and baked tapioca pudding (immensely pleasurable) after which of course we realised that the male in our company may have been the wise one in exercising restraint.
I can't think of anybody who won't enjoy Everybody's - it's a treat to sit in such a beautifully restored piece of Auckland's history and the food is approachable and well-executed. While not a cheap eat, it won't send you broke either.
Happy Christmas and New Year everybody.
From the menu: Salad of salmon $18, Tuna & globe artichoke $18, Warm tart $16, Wagyu skirt steak $32, Confit duck leg $34, Twice-baked gorgonzola souffle $28, Duck fat chips $10, Apple galette $16, Tapioca pudding $16
Drinks: Fully licensed